Nike has released something rather unexpected today with their latest edition of a CR7 colorway. The brand new 'Natural Diamond' Nike CR7 Superfly is the next Chapter, Chapter 2 in fact, of Ronaldo's journey to success. Each chapter will release a new boot and line of gear that embodies that part of his career. In Chapter 2 we see the Natural Diamond colorway that represents when he left home at age 12 to head to Lisbon to pursue his professional dreams.
The boot takes inspiration from how Ronaldo had to "forge his game through hard work," hence the term Natural Diamond was born. Nike also took inspiration from Ronaldo's natural ability as well as his hard work to create his game today, giving more meaning to the name Natural Diamond. Despite the fear that comes from moving, Cristiano went to Lisbon at a young age, because he knew he had to make the move to achieve his dreams. Ronaldo told Nike that, "To leave home it was the most difficult part of my career so far. When I realized I had potential to be a professional at 15-16-17, it was there when everything changed." Ronaldo has obviously gone onto incredible things in his career so far, but I think it is best if we leave that for the coming chapters.
The colorway itself is a royal blue color that fades into navy on the heel area. The back of the latest Nike CR7 soccer shoes actually has a rough, textured area which is the first time we have seen this sort of design on a Flyknit boot. This texturing represents the early years of Ronaldo's career where it was rocky but he worked hard to refine his game. Nike creates this to then smooth out the surface of the boot towards the toebox to show how his career and development came out of these rough times.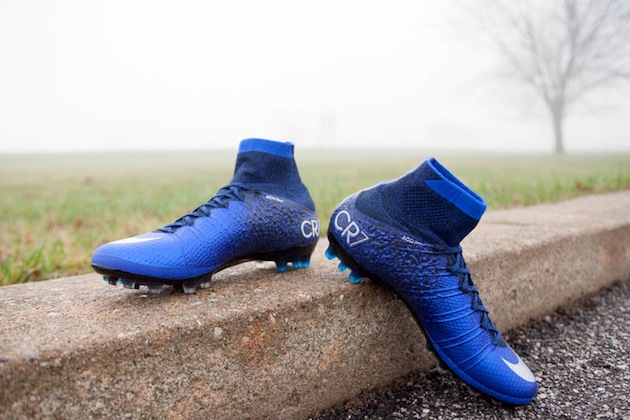 The famous Nike Swoosh and CR7 logo is a metallic silver color to give the diamond name even more meaning. The soleplate is all black and goes perfectly with the two shades of blue on the upper. Even if Nike had not included the CR7 branding and texturing, this would be a fantastic colorway.
We saw the fiery "Savage Beauty" Chapter 1 Superfly released back in October and CR7 found success in those cleats and even wore them for longer than most expected him too. I fully expect Ronaldo to be rocking these for a long time this season with other players potentially trying their hand at wearing the Natural Diamond colorway.
What do you think of Nike's latest CR7 colorway? Are you looking forward to picking it up or are you passing on this one? Let us know your thoughts in the comments.