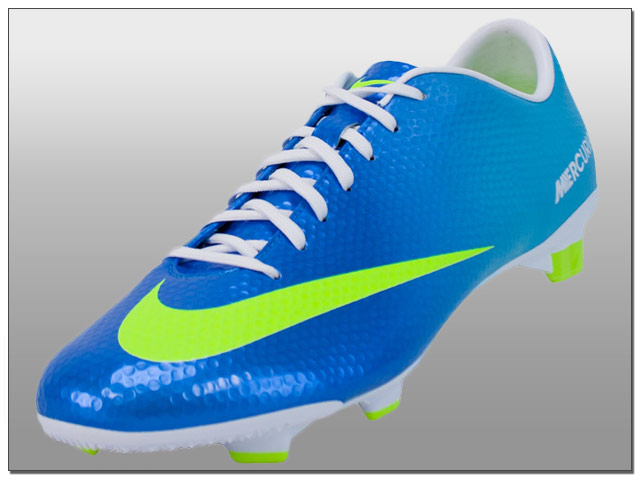 Not everyone needs, or in my case can afford, the latest high end soccer shoe releases each season.  For these folks, Nike takes great effort in creating exciting mid-tier boots like the Mercurial Veloce FG.  As the younger brother to the lean and mean Mercurial Vapor IX, the Veloce offers some impressive features for a cleat at its price range.  This silo is always changing – the Veloce's predecessor is the Nike Miracle III and they share some common features.  Nike likes to use the Mercurial line to introduce some of their more wild designs and styles, as it seems the speedsters that swear by the boot are usually attracted to bright lights with all the bells and whistles.
The Mercurial Veloce uses the same super soft Teijin microfiber upper as the Vapor IX, sans All Conditions Control (ACC) technology.  It fits your foot like a glove, and breaks-in very easily.  The upper features a golf ball dimple pattern of sorts, which probably doesn't provide much actual help by way of aerodynamics.  Its certainly an eye catching design, especially in the vibrant neptune blue with pink flash colorway I reviewed.  I was impressed by the efficiency of a boot in the $100 price range as I gave it a field test.  The soleplate delivers nice flex, and looked similar to the Vapor IX's minus slightly longer, non-hollow studs.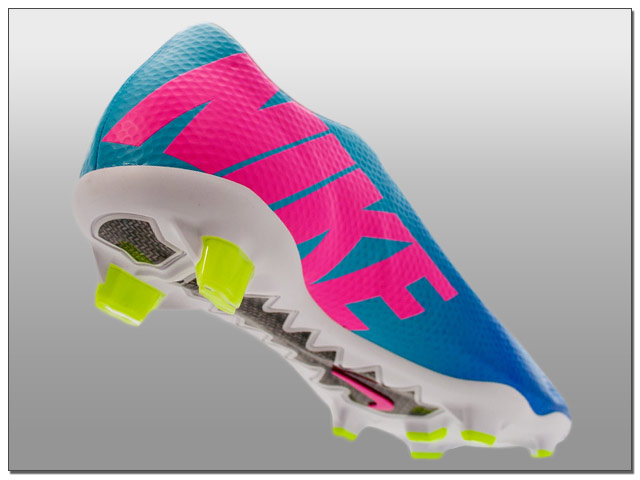 As far as fit goes, I was pleased that they ran true to size, but disappointed by some heel slippage.  This could be due to the inner lining being different than the Vapor IX, but overall it wasn't bad enough to be of serious concern.  Nike has really done a great job of delivering what a 2nd tier buyer wants – that is performance that mimics the top market shoes at a lower price.  While adidas offers more padding and comfort in their roughly equivalent F30, the Mercurial Veloce mimics the Vapor's speed-inspired qualities.  At 7.8 oz its very lightweight, making it a particularly smart choice for the attacking player seeking speed without breaking the bank.