With a slight mention in the referencing of the CR7 Galaxy boot in our end of season awards (the "Boot-ies"), we mentioned that the future of colorways may have forever been altered by the introduction of boots that have an upper comprised of more than just blocks of colors.  Where we simply saw boots with two-tone colors and where, despite some rather intricate designs, the obvious nature of a boot that was mass produced was visible from some distance because of the way these colors were laid out.  However, despite every boot with the "Galaxy" paint job and probably even with Puma's recent "Camo" outing, the boot looks completely unique despite probably being identical to other pairs of the same boot…is this the future of boot colors?
Looking a bit into the future, and with a handful of boots that are currently on the market, it seems like brands are starting to experiment with colors that make an upper look more like an extremely creative design than just imposing different layers of color on different sections of the boot.  Some brands have taken this approach with special releases (Yamamoto F50/Balotelli's EvoPower), but it seems like these amazing works of art might start being mass produced for the typical boot release. Adidas have launched the LZ SL that looks like every boot has been splashed with color (an effect that we believe they may revisit with future boots), Nike have the Galaxy looking like a painting on an upper, and other brands also following suit makes me think that people hoping for a two-tone black/yellow or some other combination of colors might soon be a rare sight.
Although adidas and Nike are moving in this direction, a look in the Puma vault here at Instep HQ shows us that they have been moving towards this type of design work for quite some time.  The PWR-Cat 1 has several colorways ("Dia del Futbol" and the PWR-Cat 1 released for Cesc Fabregas) that have a design closer to a drawing or work of art than simply meshing colors together in a computer based design program.  A look even farther back for Puma also shows their Tokyo inspired series and a plethora of paint jobs on the V1.11 and PWR-Cat 1.10 boots that seem like they would fit in nicely with the current direction of major companies.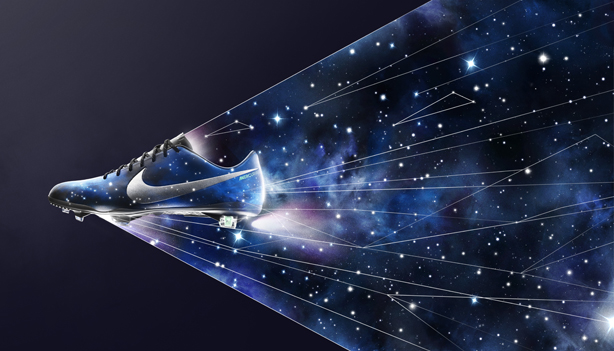 It is difficult to think that Nike could adorn the dimpled upper of the Vapor IX with something incredibly intricate, but the leather-like finish used by the Galaxy shows the potential there.  The hybridtouch from adidas also seems to be a perfect "canvas" for this move, and all of the major leather boots in the market might be able to house a decent "painting."  NikeSkin has gotten some interesting work done via the Elastico and Bomba, but the Venom could also work.  Nearly every company seems to have at least one synthetic on the market that would be able to function well within the boot and hold a color long enough that typical wear-and-tear would not ruin companies switching to this type of upper.
With all of this being said, as a true gear-head, the color or design on the upper does not change how the boot performs.  However, a shift towards brands being able to release immaculate designs on their uppers would mean an increasingly amazing array of uppers that will be available on the market.  There may never be a market for slapping classic works of art onto an upper, but brands can definitely start using this technology to make boots take another step into the future.  Will fans embrace it?  Or will we always prefer simple or relatively simple colorways?  Would you wear a boot that had a recreation of your favorite work of art on it?  As with any new move in the boot world, even if I do not like it…it does make me excited!  How about you?