In the boot world, there are a few clubs that should allow companies to create fairly simple color combos in order to market successful products to a club's fan-base.
If you want a product for a Barcelona item, there better be some shade of blue and red squeezed together.  If you are selling something for Juventus, then it would be in your best interest to have a bit of black and some contrasting white.  However, apparently for adidas, putting together a boot honoring the red side of Manchester involves heading in a fairly divisive direction.
The newly released, and (surprisingly) highly sought after trainer from adidas has split opinions because of the color choices made by the three stripes.  Named and created in honor of the famous stand at Old Trafford, adidas decided to ditch the easy combo of black and red, instead going with the iconic Red Devil colors of black and blue…wait…what?
Enter: The Stretford.  An homage in black and light blue.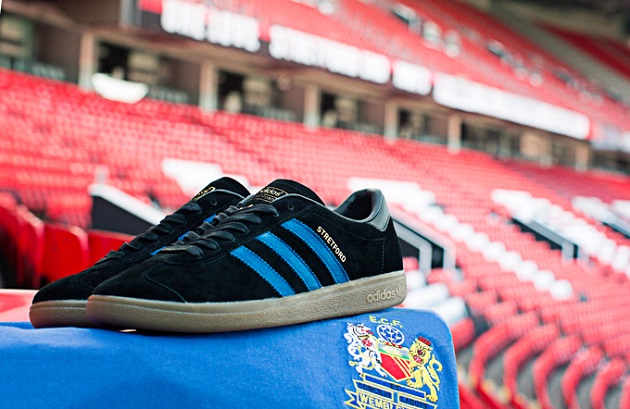 While some fans are genuinely outraged (if you are confused as to why, take a gander at a Manchester City jersey…the outfit for Manchester United's most hated rivals), adidas has made sure to base their move from a bit of history in order to also create a group of fans that absolutely must have the new shoe (and satiate the large group of haters).  While winning the 1968 European Cup within the confines of Wembley, United was wearing a predominantly blue jersey.  So, not an entirely unbased move by the three stripes to create a shoe honoring a club that typically hates anything colored with light blue (outside of, perhaps, the sky…although…we are talking about England…).
For a club with such a rich legacy within the last two decades, it is a bit odd to see them reaching so far back for a shoe that will be, primarily, targeted to a group of fans that have zero recollection of 1968, '78, or maybe even '88.  The historical angle is more of a move reserved for a club like Liverpool, but a black and blue trainer probably would still divide opinion for Liverpool fans as well (see Everton F.C. (Liverpool's biggest rival)).  The other odd aspect is that a boot named after a stand within Old Trafford is being given a color combo from a match that took place OUTSIDE the confines of United's home ground…that's like…well…I can't really think up a proper analogy as this just feels so odd.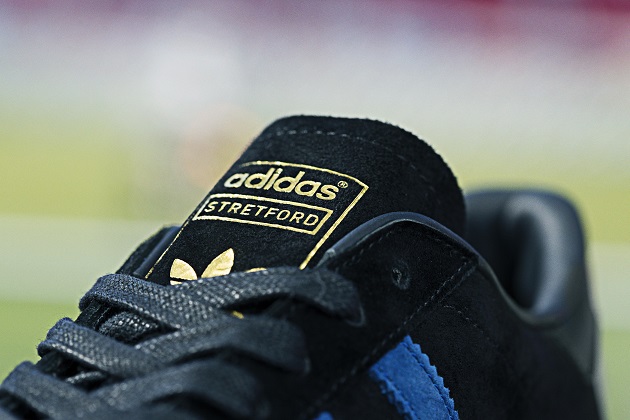 As we mentioned, the shoe is still highly sought after.  Many retailers have had buyers camping out and waiting for hours in line to try and snag The Stretford.  So, it seems adidas definitely did something right here.
The only questions we want to ask you are:  What are your thoughts on the move by adidas? And, how many of the people wanting this shoe are either A) Manchester City fans that want something to laugh at, or B) people who really don't care what it looks like, and are just looking for a good looking shoe…?