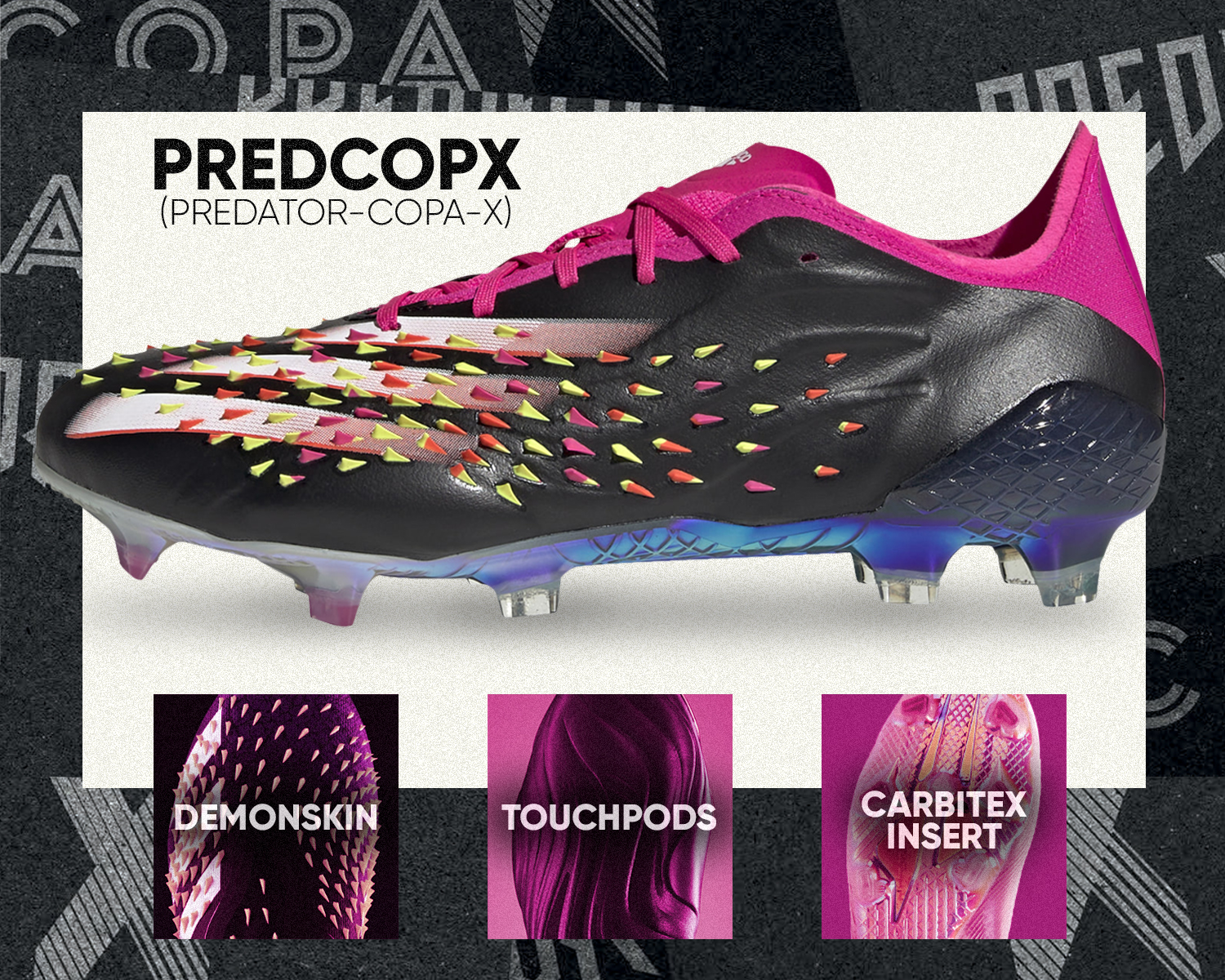 Adidas has made different cleats tailoring to different aspects of the game. For control Adidas gave us the Predator Freak. For comfort and touch, we have the Copa Sense. Lastly, the X Ghosted is Adidas' speed boot. All have their strengths and weaknesses, but what if we took the best from all three? That's exactly what Adidas did. They've created the PredCopX, combining the Predator's DemonSkin, the Copa Sense.1's upper, and the X Ghosted's Speedframe sole. Adidas essentially Frankensteined a soccer cleat. 
The new PredCopX's upper is the same found on the Copa Sense.1. It's on the comfortable side of the Adidas cleat spectrum. It's made from a thin mesh based synthetic that snuggly wraps your foot. The inner liner is made from pink suede and has memory foam inserts that can be found in the heel. This helps secure the foot in place and provide a comfortable fit to prevent blistering. The best part of the PredCopX's upper can be found at the toe box. To provide a comfortable, plush, and soft touch, the PredCopX has a kangaroo leather toe-box. The leather is one of the softest uppers Adidas is putting out at the moment, even compared to the Copa Sense. It's arguably one of the PredCopX's best components.
As you see, that's not the only big deal that can be found on the upper.  The Predator Freak's DemonSkin has been fused onto the leather/synthetic upper.  These angular fins provide a strong and aggressive surface for any ball to grip on to. The DemonSkin is currently the most aggressive grip technology in the soccer cleat world. The DemonSkin paired with the leather upper of the Copa Sense,1 is a deadly combo any Predator fan would be begging for.
The final part of the PredCopX is the Speedframe soleplate. This magnificent piece of technology comes from the X Ghosted line. It's made from a normal tpu plastic but the special part can be found in the forefoot. Adidas added in a Carbitex carbon fiber plate to improve responsiveness while sprinting. Carbon fiber is known to be used among running shoes due to the springiness it gives. The X Ghosted's Speedframe also has a heightened toe in order to encourage the wearer to always be on their toes for maximum explosivity, similar to a runner's track spike. The Carbitex insert and the raised toe come together to make an experience that hasn't been available from any other soccer cleat.
With all the components fused together you get one of the best performing limited edition Adidas cleats. The PredCopX is like no other, supplying the most aggressive grip available, one of the softest leather uppers, and the fastest soleplate out there. If you want the best of all worlds and love the attention, be sure to pick up a pair of the Adidas PredCopX.