See that little speck in the distance that seems to be getting closer and closer? That thing is called the start of the EPL season, and with less than two weeks to go until the start of the season, we will finally have something good on TV every Saturday morning/afternoon/night (depends on where you are of course!). While European footballers are starting to break in their boots for the new season, we have searched the four corners of the globe for our boot spots this week. While our article does have a distinct flavour of customised boot spots this week, check out the most interesting boot spots from this week's football action with the Instep!
Papiss Cisse (Newcastle) – Nike Hypervenom Phantom
It is hard to say which boot can be called as the boot of the summer. However, it is fair to say that the Hypervenom has gone from the boot that everyone questioned upon it's release to the boot that everyone wants. We have seen a lot of strikers seemingly making a seamless transition to the Hypervenom, but Papiss Cisee has had a slight issue with his pair of Hypervenoms. The Newcastle striker got his boots from Nike this week, but Nike have incorrectly spelt his name as 'SISSE' on the side of his boots. We are not sure whether Cisse has ordered a new pair of boots because of it, but it is certainly an embarrassing incident on Nike's behalf…
Omar Gonzalez (MLS All-Stars) – adidas Predator LZ II (Custom)
We said that the boot spotting this week had a distinct whiff of customised boots, and with adidas decking out some of the stars of the MLS All-Stars with customised boots for their fixture against Roma, boot spots of players in customised boots have been in high supply this week! While the launch colourway of the LZ II was certainly on the bright side of the colour spectrum, Omar Gonzalez's slime LZs certainly stood out on the pitch! These boots are not for the faint-hearted, and the purple detailing used through the five 'Lethal Zones' only makes the boots stand out that much more.
Felipe Melo (Galatasaray) – Puma King (Custom)
We always love it when footballers go above and beyond to match their boots with their kit, and Felipe Melo has seemingly done that with his Puma Kings. While it may be a little hard to see, the iconic Puma stripe across the midfoot is instantly recognisable. Considering that no red colourways have been released yet for the new Puma King, it seems that Melo may have got his boots done professionally when the thoroughness of the job has been considered. Whoever has done his boots, they have done a cracking job!
Robbie Fowler (Liverpool) – Warrior Sports Gambler Pro K-Lite
Steven Gerrard's testimonial on the weekend saw two Liverpool legends pull on the boots one last time in the name of charity, but Robbie Fowler certainly did not bring out the boots he played his last proper game in. Perhaps Fowler could not quite find an old pair of boots, so he was decked out in the new Warrior Sports Gambler Pro K-Lite for Liverpool this weekend. The K-Lite version of the Gambler Pro is much more low-profile in contrast to the S-Lite, and it is all down to the lack of the colourful 'Safe House' that does not make an appearance on the K-Lite. We wonder if the Liverpool groundsmen redid the pitch markings in case Fowler wanted to recreate THAT goal scoring celebration from so long ago…
Jon Ostemobor (MK Dons) – adidas Predator LZ II (Custom)
Inspired by his home kit or the special Predator LZ II that was designed by adidas for David Beckham's last professional game? Either way, we absolutely love Jon Ostemobor's customised Predator LZ II! The boot does match up with Ostemobor's MK Dons home kit quite nicely, and the red 'Lethal Zones' does give the boot that nice little pop of colour. While adidas have released a predominantly white Predator LZ II, Ostemobor's boots does make that colourway look very boring in comparison…
Lee Tomlin (Peterborough) – Nike Hypervenom Phantom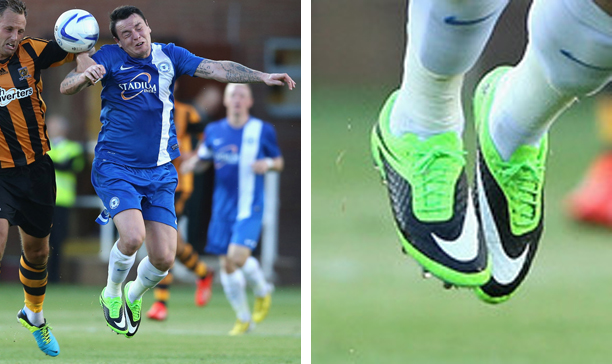 No one has been original when it has come to the Nike Hypervenom Phantom they will wear for the upcoming season, but we have finally spotted a player not wearing the launch colourway of the Nike Hypervenom Phantom. Lee Tomlin has divided himself from the masses by going for the Flash Lime/Black/White Hypervenom Phantom, with Tomlin being the first player we have spotted in the colourway. While everyone has been going for the launch colourway of the boot, stock of the blackout Hypervenom quickly sold out at SoccerPro, but there may be a slight chance that they may be getting a few more pairs of the blackout version of the boot, so keep an eye out for it!
Tony Beltran (MLS All-Stars) – adidas F50 adiZero TRX (Custom)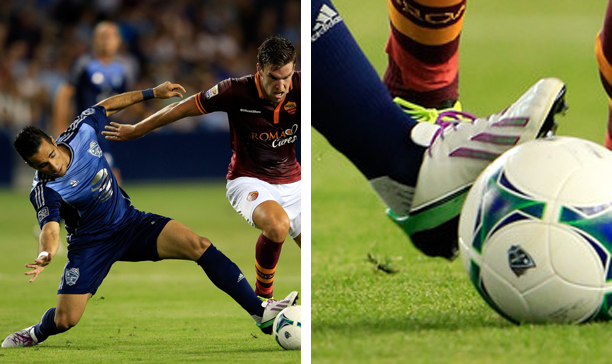 It was not just adidas Predator LZ wearers who received a flashy pair of miadidas boots for the MLS All-Stars clash against Roma. Tony Beltran received a rather clean White/Green/Pink F50 adiZero TRX, and the contrasting colours against the white Sprintskin upper does make a boot that is very easy on the eyes. Beltran's boots have also been finished off with pink shoe laces, something that seems right at home for Breast Cancer Awareness week!
Liam Palmer (Sheffield Wednesday) – adidas Predator LZ II (Custom)
You can never go wrong with black and white boots, and Liam Palmer has certainly created a sweet Predator LZ II on miadidas! Liam Palmer is actually well known for his boot collection, and he rocked quite a few customised boots last season. He has started off the season with a bold Black/White creation that we absolutely love at The Instep, and we look forward to seeing Palmer bring out some more boot creations over the upcoming season!
That is it for our boot spotting today, what was your favourite spot this week? Share your thoughts in the comments section below.