This week was certainly an interesting one. First, the Chicago Cubs won the World Series and we can fully expect "Oh, I've always been a Cubs fan" to be a go-to phrase for a while. Second, Liverpool decided that it would be more crushing for their fans if their inevitable tumble started at the top of the table instead of a bit farther down (since it would be more comfortable and easier to stomach that way). Third, THERE WERE GOALS, GOALS, AND MORE GOALS! From every corner of Europe to the playoffs in the MLS, there was some fantastic soccer to be had. By the way, remind me to not bet against Timmy Howard in a shootout…like…ever…
Let's get to it!
Adidas NitroCharge 1.0
Brett Trowbridge (Taunton Town)

---
The first thing I need to know from this spot is if this "Taunton Town" team ever takes full advantage of the Star Wars universe creature that bears a similar name. After that, it's just fantastic luck for anyone hunting down classic boot spots that this weekend marked the first set of fixtures in the FA Cup. While the retro spots were all over the place, we loved the reminder to the launch colorway of the NitroCharge silo. Adidas didn't see this silo last for too long, but it quickly gained a loyal fan-base and also garnered many a player hoping to fill the Predator void that many felt the adidas LZ had left in the marketplace. The original is still a surprising favorite of my own, and the EnergySling on the upper is something that we'll be able to spot from a mile away…gone too soon, but never quite forgotten.
Nike Mercurial Vapor XI
Ivan Perisic (Inter Milan)

---
Although we still think that the current Mercurial Vapor XI might be the unsung hero of the current Nike line-up, the reason for this spot is actually derived from a different line of thinking. Although Perisic isn't quite in line for a Nike signature model yet, he would certainly be considered a Nike athlete that would be enjoying the perks of being associated with the Swoosh. So, if that's the case, then why isn't he utilizing the Anti-Clog technology? Having seen that it works firsthand, it surprises me and also makes me question my own experience that Nike wouldn't roll out this tech onto all their boots being used at the elite level. Is there something I missed? ACC features on every Nike boot we see on European pitches…why no Anti-Clog? Curious…very curious…
New Balance Visaro
Marouane Fellaini (Manchester United)

---
Boy, if United ever needed a performance and scoreline like that, it was certainly this weekend. Still, that's not why the Afro-ed Belgian finds his way onto the spotting. Over the last few weeks, we've seen the stars of the Visaro line sporting a boot that is lacking the honeycomb upper we see on the standard Visaro. This gives way to two different schools of thought, at least here at Instep HQ. Either A) the Visaro pros are testing disguised versions of an upcoming version of the silo, or B) New Balance has given their top players a modified upper in order to keep them happy. Considering there weren't anything but positives to comment on with the current Visaro, our money firmly lies with (A).
Adidas Predator Instinct
Jamie Lucas (Boreham Wood)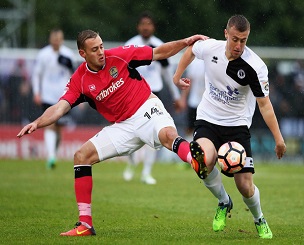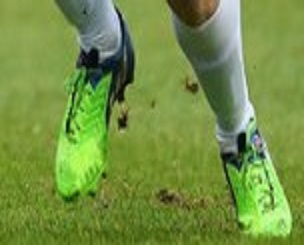 ---
As we said, the first few fixtures of the FA Cup really served up some excellent spots. Lucas's Supernatural Pack Instinct, outside of the Instinct boots meant to resemble earlier Predator releases, might have been our favorite colorway of the Predator's last hurrah. A few boot cycles ago, Adidas seemed to have fallen in love with "Green slime" in a way that Nike certainly utilizes their beloved "volt," but the color hasn't quite stuck around with the staying power we've seen, or may ever see, from the infamous "volt." Still, we're not ashamed to admit that we still have a pair of these sitting around for whenever we think a match might need a bit of the supernatural. Perhaps brands could present more boots like this around Halloween instead of the pumpkin-colored boots that have, for us, become a bit stale…
Nike Mercurial Vapor IX
Dino Djulbic (Perth Glory)

---
It isn't just the lower British leagues that served up some fantastic spots for the fan of boots that didn't come out in the last few months. Djulbic is rocking the Vapor IX from the "I'll never stop talking about it as long as I live" Hi-Vis collection. Hey, it's my spotting and my rules, and that means that the hi-vis collection will always be welcome here. The Vapor might have actually been my least favorite of the group, but I'm still a fan. Was there any one collection that totally blew you away? A group of boots that could have been warmed over garbage on your feet, but they all just looked so amazing?
Adidas X 16.1
Cesar Azpilicueta (Chelsea)

---
Chelsea is a totally different animal when Eden Hazard looks like he has his full attention on the matters at hand. Although that has nothing to do with Cesar and his kangaroo leather adidas X 16.1, it certainly bears mentioning. Perhaps the greatest last name in all of the soccer world, there might not have been a player that's on the team sheet more often, yet overlooked more than ol' Cesar. Despite some hiccups in the beginning, Conte seems to have his charges totally prepared to climb back up into the mix for silverware at the end of the season. It still just blows me away that the Chelsea team actually seems to flow better with players like Terry and Fabregas on the bench…look out folks, the blues are comin'.
Joma Copa Mundial Pro 602
Alberto Martin (Leganes)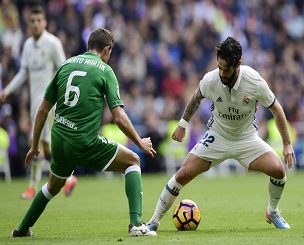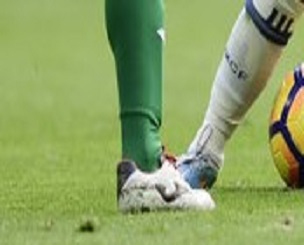 ---
So, could there be a worse name to choose for your boot than Copa Mundial? Perhaps adding "Pro" and "602" made them think it would be acceptable. Still, these boots had two very distinct sides that provide a very interesting look. I thought for the longest that it was a boot from the Puma V-series, but the design didn't quite match up. Joma has been making a slight resurgence of late, and we're quite curious to see if any of there boots hold promise. Some of their current line-up might creep slightly close to boots we've seen from other brands, but Joma will always be an interesting brand on the sidelines.
Puma evoTouch Pro
Marco Veratti (PSG)

---
This weekend will certainly not be one that the big cat looks on fondly. Their big Santi Cazorla custom boot never even made the bench, and Verratti (a player Puma will hope to see grow as a huge star for their brand) is still in the launch color of their newest boot! Perhaps the Italian midfielder isn't a fan of his feet looking like they were inspired by a pumpkin. No matter what the reason is, we can't let this boot go down the drain! It's truly worthy of your time! We aren't just saying that! You must listen imaginary person that I'm yelling at!
Nike Magista Obra
Sebastian Mai (Preussen Muenster)

---
Our last spot of the weekend comes to us from one of the lower German leagues. We didn't see much, if any, on-field support for Nike's Pitch Black collection, but we think that these look great. The crazy thing about this match is that there were actually TWO of the Pitch Black Magistas on show. While these are the Obra version, there was also a Pitch Black Opus floating around from the same team. One thing we really want to know is, what the heck is that match ball that they appear to be using? No wonder our idea for a match ball spotting hasn't quite taken off yet…
The first weekend of November brought us some great spots, some fantastic footy, and the last week of me having to avoid my Facebook feed before the election. No matter how things go on Tuesday, you can bet we'll be back with another spotting next weekend. Let us know what you thought of our spots this week or any of the spots that we missed. Please, be gentle…