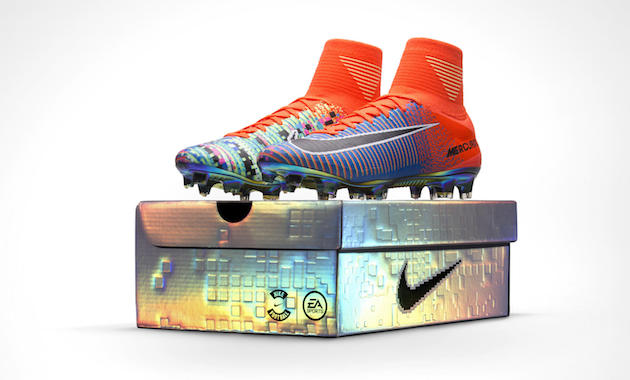 What a pleasant surprise, but, at the same time, a terrible reminder that FIFA 17 still isn't in our hands yet! Nike and EA Sports have teamed up to release a limited edition Mercurial Superfly V before the official launch of the game, and this boot is going to absolutely fly off the shelves. Fans of boots, fans of video games, and fans of the FIFA franchise will line up to get their hands on a boot that would certainly be described as "interesting."
With us only days away from the much-anticipated release of FIFA 17, Nike has teamed up with the video game behemoth to give us a Mercurial Superfly that will certainly split opinion in terms of how it looks, but anybody would be elated to have a pair show up on their doorstep. With only 1500 released, we anticipate this boot to stick around for all of 30 seconds before we start seeing a few pairs pop up on eBay and the rest of the pairs pop up in boot collections on Instagram.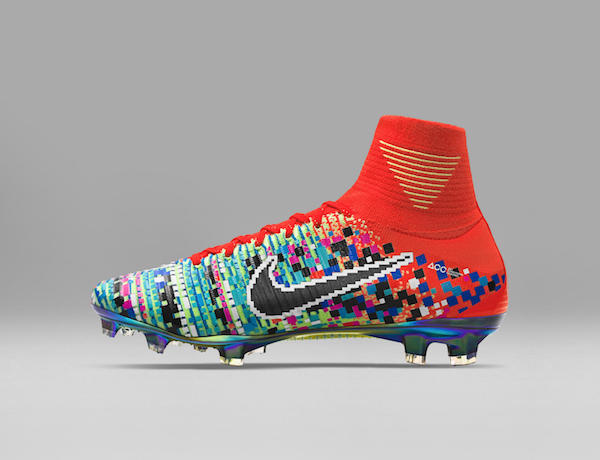 The boot itself looks like the two companies each decided to design one half of the upper. On the outer half, Nike has given us a set-up that could easily be a standard color launch from the Swoosh. Blue and orange, but with volt accents, this half is a good look for the collared wonder…and this would probably go over well if the whole boot sported this look. However, EA's influence bursts through on the instep of the boot as this portion of the boot is made to look entirely made out of 16-bit pixels. Those that aren't familiar with old television sets and how they'd look if you didn't have the right connection to your antenna might not see how Nike got this inspiration, but it reminds us of frustrating sessions with televisions back in the 90's (which just so happens to be when the FIFA franchise got its start). It's certainly original, and we're a fan, but these won't suit everyone's sensibilities.
The last touch on the upper comes on the heel. An EA Sports logo and the number of your boots show off the limited and special nature of the #Mercurial. Who will end up with 001?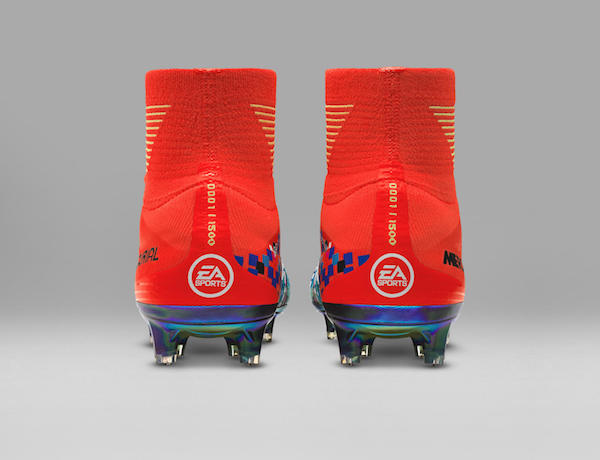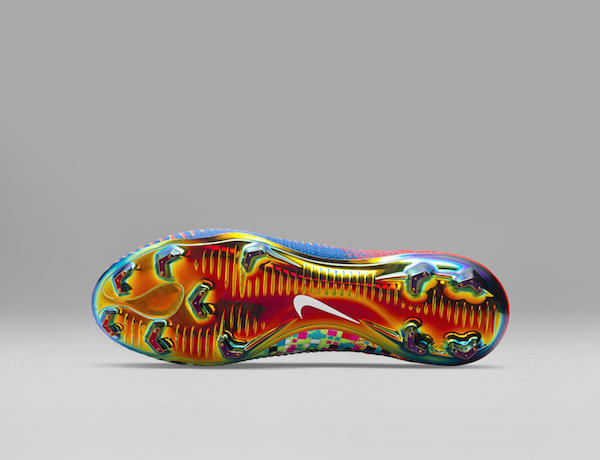 The soleplate and box for this boot are, perhaps, the best parts. The soleplate looks to have been dipped in oil and reminds us of when sun reflects off of small oil patches. It certainly sets itself apart, and we wish more boots would end up with this soleplate! The box is also made to shine and reflect light, and it is one of a kind. We would love for more brands to accompany their special releases with special boxes, and Nike seems to have gotten that memo with the Pirlo Tiempo and the #Mercurial.
Perhaps our odds aren't too great for getting this boot (there's only 1,500 pairs), but we would like to think that they will be included in FIFA 17. Considering it's EA Sports that was part of the collaboration, we think the chances are fairly high. At the very least, our virtual selves can wear these (and dominate in them). What are your thoughts on the #Mercurial? An insta-grab? Or something that you'd like to interrupt with some regularly scheduled programming? Let us know in the comments!