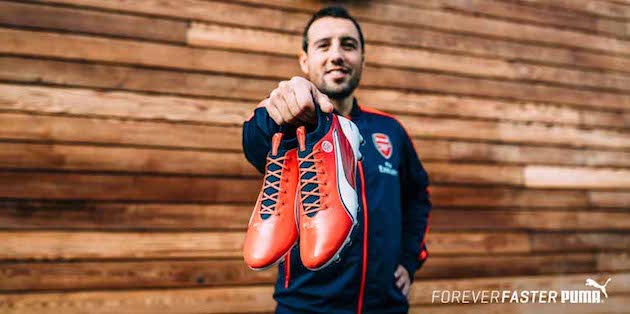 Puma is a brand that hasn't had a wealth of luck with choosing players for signature boots. Balotelli might be finding his form in France, but there's a reason that the big cat's only signature model currently in production has Maradona's name on it. Still, the future looks bright for a lot of the Puma roster, so we aren't surprised that Puma is taking a leap with one of the headline name for their Puma evoTouch Pro.
Step up, Santi Cazorla.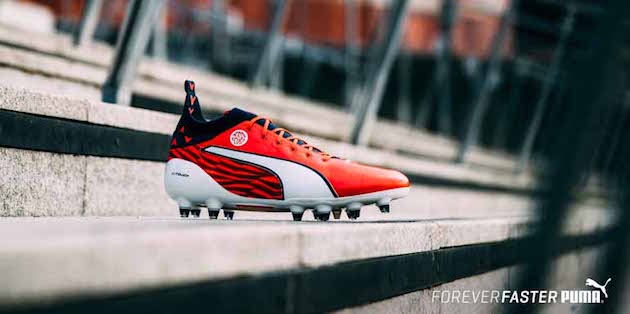 Right on the heels of their Halloween-esque evoTouch colorways, Puma is giving the Spaniard his own bespoke evoTouch pair. With the London derby only a few days away, Puma has given Cazorla a pair of boots that will look amazing with the Arsenal home kit. Predominantly red with blue and white touches, this might be the best color combination we've seen since the evoTouch made its way onto the scene.
A boot that might not be snagging a ton of boot headlines, its a big winner for us here at The Instep HQ. A soft and comfortable collar gives way to one of Puma's biggest strengths: kangaroo leather. It's a combination that Nike flirted with in their Tech Craft packs, but Puma has certainly taken the pair to the next level of comfort and function. We're still bemoaning how little press the evoTouch is actually garnering, but that just means more for us!
READ: Puma evoTOUCH Pro review
One of our favorite little flourishes is the "Derby Fever" near the top lace hole, but we aren't quite so keen on the block letter "North London Derby" put on the forefoot. Still, we're patiently waiting until November 6th and a good look to see if this boot pairs as well with the Arsenal kit as we hope. Until then, we're left to sit and wonder.
Puma's fall releases don't quite stand out like the Stellar Pack or the Floodlight Pack, but every boot under their employ is worth checking out. From evoPower, to evoSpeed, and the evoTouch, the big cat has quality at every corner. If you're looking to step away from the stripes and the swoosh, there's definitely a home for you somewhere with the cat.