The respect that Lionel Messi gets in the soccer world is unrivalled yet fully deserved. Messi is a combination of Diego Maradona and the Energizer bunny. The man from Rosario plays the game like few others before him have, he runs at defenses nonstop, and sees holes and openings before they appear to other human beings. Messi is the best player in the world today, and that's just the way it is regardless of where your allegiances lie. With all this in mind, when the Messi brand chose to link up with adidas for special edition Messi shoes, it was a big deal!
The adidas f50 adiZero Leo Messi edition FG TRX soccer shoe is beautiful. It's not just the Turbo with Blast Purple colorway that has shoe enthusiasts nodding their heads in approval. It's the fact that the shoe maintains the f50's traditional light weight and speed qualities while adding the individual design bits suggested by the FC Barcelona jewel. It is still one of the lightest boots around, it has technology which contributes to it's excellence and it has a lot of bite to go with it's bark.

The shoe is stacked with adidas' best technology:
SPRINTSKIN™ single-layer synthetic for sensitive ball feel and reduced weight
SPRINTWEB™ abrasion-resistant kicking area for pure stability in a variety of foot positions
SPRINTFRAME™ construction to ensure stability while retaining a feather-light weight
miCoach® compatible
TRAXION™ 2.0 FG stud config for improved grip and acceleration on grass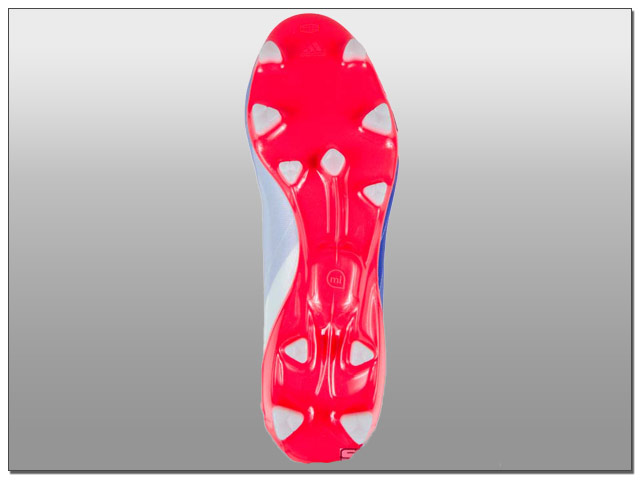 Get on SoccerPro's shoefitr page and find out what size suits you. When the best player on earth wears a shoe, you follow his lead. Period.