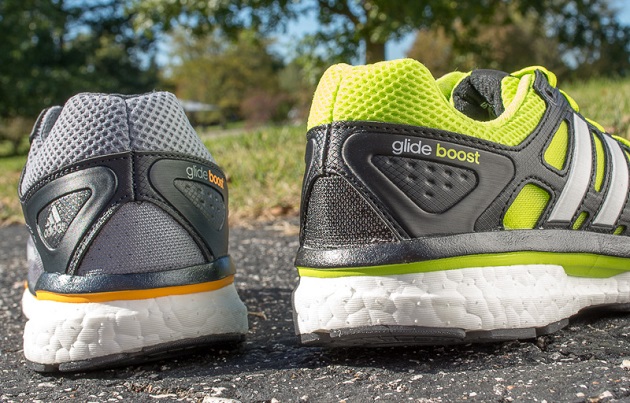 Sometimes your foot just knows when it's surrounded by quality. This is the experience of slipping on the Adidas Supernova Glide 6 Boost. We know that distance running demands shoes with a certain amount of durability over lightweight flexibility, but you shouldn't have to forfeit comfort in that. The Supernova Glide negotiates this difficult territory well, while introducing us to adidas Boost, the German company's premier running shoe technology. After delving into the interesting backstory of Boost, we decided to try it out for ourselves.
Note: Since this is a running shoe, the review format will differ slightly from our normal reviews.
The Look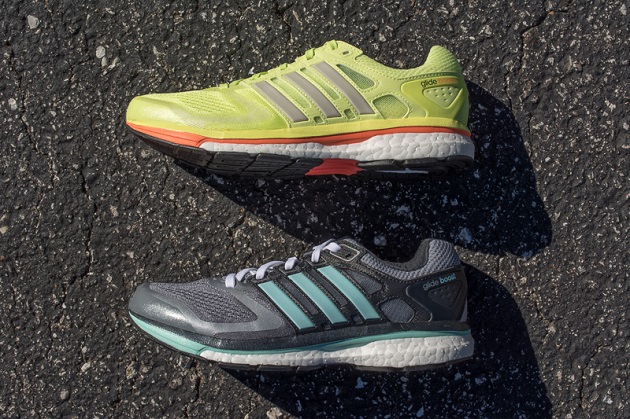 You can find several colors in the Supernova Glide 6, but for our purposes we are highlighting four, two men's and two women's colorways. For the male sizes, the Solar Slime (green) stands out as the louder, flamboyant partner to the straight-laced Grey and Neon Orange – the Leslie Knope to the grey's Ron Swanson. Similarly, the women's side features Green Glow as the former and a Grey and Mint colorway as the latter.
A pair of three stripes stretch vertically across both sides of the midfoot, making these impossible to mistake for anything but an Adidas shoe. The support given to the toe and heel lend a slightly bulkier aesthetic, which you come to expect with most running kicks. The white Boost midsole on each of these doesn't try and hide the shoes' feature technology.
The Construction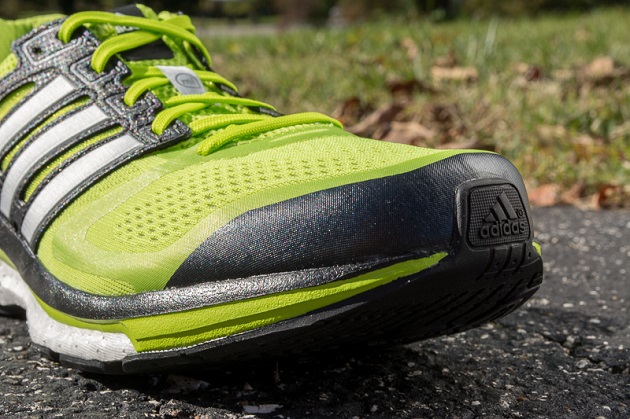 An upper constituted of textiles and a mesh forefoot contribute to keeping the weight down. This helps comfort, of course, but also breathability, particularly up near the toe where the mesh keeps things light and breezy.
Now to the main event. That Styrofoam-looking midsole is adidas' Boost foam. It doesn't flatten like Styrofoam though, as Boost technology boasts unreal cushioning and responsiveness. The thousands of tiny "energy capsules" fused together inside the foam stores and returns energy to your foot with every step. Additionally, adidas claims that their Boost material stands up to extreme weather significantly better than the standard EVA foam that you find in running shoes today. No wonder they have begun to make room for Boost in just about every shoe they make.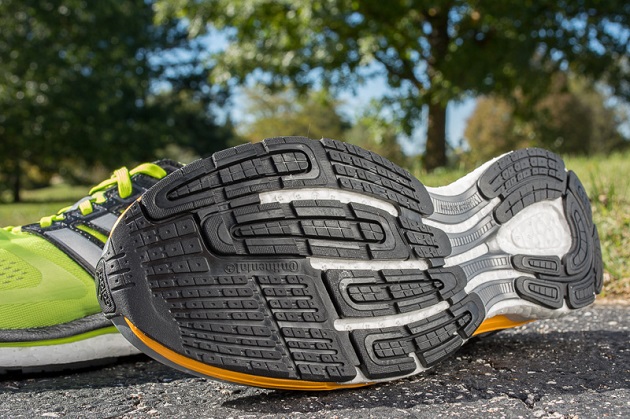 Finally, the outsole is a Continental rubber setup that promises surefooted traction. That's Continental, like the rubber on your car tires, so adidas have put an emphasis on name recognition for this outsole. Also, in the middle they have installed the Torsion System, which is a four-banded plastic plate that connects the rubber on the front of the outsole to the back. These almost act as "fingers" that keep everything stable underneath your foot.
The Performance
The first thing that needs to be said about the Supernova Glide 6's performance is that Boost appears to be all it's cracked up to be. From your first step, you can feel a little more bounce at work. Actually, even just standing around in them is a joy, making me a little disappointed whenever I put on my street shoes again.
There isn't much of a break-in time either. Once you starting running in them, you begin to appreciate the soft cushion that is remarkably met with an elasticity that propels you through your run. I have a sense (maybe irrationally) that I can go further in these shoes. Even when moving on concrete or pavement, it feels like you're on a springy track. And it's not just in the heel, where you see the thick concentration of white Boost material. There is heel-to-toe coverage that gives your forefoot the same sensation.
Aside from the benefits of Boost, the tongue and heel cushion strikes a happy medium between clunky and too lean. On the outsole, you can feel the Continental rubber at work underneath the Boost foam. I ran through some slick conditions and had no issues, as the grip on the wet ground always seemed secure. After several tests, the durability and support has held up wonderfully. I don't get the sense that my shoes will start wearing down anytime soon. Those that have tested Boost shoes long-term suggest that these are well-constructed enough to stay durable for quite a while.
The Verdict
The price (129.99 retail, 116.99 on SoccerPro) seems about right for these. If you pay over $100 for running shoes, you expect to get close to top-notch quality in return. The Supernova Glide 6 has no problem there, as long as you prefer a slightly heavier, support-oriented running shoe. Considering this, I'd say they are perfect for long-distance runners. You get excellent cushion and support with some extra bounce to push you through that lengthy run.
Runner's World named the Supernova Glide 6 their "Editor's Choice Award" winner this year. It's not hard to see why. Like I said, sometimes your foot can tell you when quality has arrived.