See that? See the date of the post? Yeah, it says 1st December. Soooooo that means we are right in the thick of things when it comes to footy season, plus Christmas is not far away, it's a good time to be around! But being a Monday, there is one thing that we focus on, and that is a good old boot spotting. And to make this spotting even better, there are a few spots in here that I would put on the top shelf of the best boot spots of 2014. So we might as well dive straight into it aye?
Lionel Messi (Barcelona) – adidas F50 adiZero Messi TRX (Custom)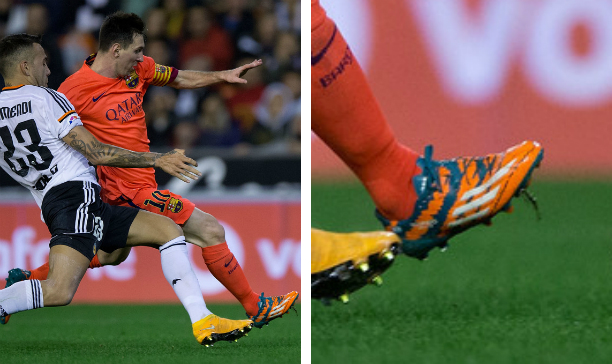 Because having 6 Messi signature releases in one year is not enough, adidas launched the new mirosar10 edition that is inspired by Messi's childhood city of Rosario. The orange represents Messi's first 11-a-side team, while green is the colour of their fierce rivals. While we cannot tell in the photo, we are sure Messi is wearing a custom version of the boot like he has been for several months now. Nice customised Dynamic Fit collar on your Superflys too Otamendi…
Zlatan Ibrahimovic (PSG) – adidas F50 adiZero TRX
Do we have the brand who has decided to take on Zlatan Ibrahimovic? Ehhhhh, I do not think the answer is as obvious as it is. While Zlatan took to the pitch against Ajax this week in a blacked out F50 adiZero, he did so in a very shoddily blacked out F50 adiZero (the Supernatural Pack F50 to be exact). Considering the profile Zlatan carries (he is God after all), it seems strange that adidas did not give him a properly blacked out boot. It just seems a little off, but we should find out more over the coming weeks.
Aaron Lennon (Tottenham Hotspur) – Nike Mercurial Vapor X (Custom)
There are so many players around the world going for blackout or whiteout boots these days, and Aaron Lennon has thrown himself onto the list of players going for the monochrome trend. While Lennon has been a faithful Nike Mercurial wearer for a number of years, it seems the speedster could be making a shift away from Nike as he has been seen in blackout Vapor Xs in the past few weeks. He used to appear in Nike Mercurial commercials back in the day where Nike made the most of his profile as one of the fastest players in the EPL, so there is a chance one of the smaller brands may sign on Lennon and put his face on a few speed boot ads.
Dax McCarty (New York Red Bulls) – adidas Predator Instinct
It has been tough going to find a player wearing a pair of boots from the adidas Hunt Pack, but Dax McCarty hit the 2nd leg of the Eastern Conference Final in the Predator Instinct reincarnation of the Hunt Pack. The Hunt Pack Instinct marked the final release of adidas' epic 14 Predator releases to celebrate 20 years of the Predator lighting up the pitches around the world, but it goes down as one of the least popular boots that adidas released in the past 6 months.
Jermaine Jones (New England Revolution) – Under Armour Clutchfit Pro (Custom)
Sure, his boots may look a bit like a candy cane (probably fitting with Christmas and all coming), but Jones' boots decked out in red, white and blue are ultimately as American as you can get. This is not a colourway we have seen before from UA, so we have a feeling that Jones had the boots made just for him by the good folks at UA. They served him well though, as New England edged New York in their Eastern conference final.
Bibras Natkho (CSKA Moscow) – adidas F50 adiZero TRX Crazylight
Speaking of boots that we have not seen on the feet of too many pros, the Crazylight fever hit the football world pretty quickly and then left the scene just as quickly. It seems there are one or two players who hung on to the Crazylight range of boots though, one of those being Bibras Natkho of CSKA, with the midfielder showing off the 140 gram boots.
Bakary Sakho (Wolverhampton Wanderers) – Nike Mercurial Vapor X (Custom) & Superfly IV (Custom)
Sure, the whiteout Vapors that Sakho wore in the game are pretty awesome and worth a bit of attention, but they do not hold a candle to the boots he wore when he was in the warm up of Wolves' game against Brentford. Sakho had a very special pair of handmade boots made for him as he hit a ton of appearances for Wolves, featuring his name, number, 100 emblazoned on the heel and the iconic Wolves logo on the outstep of the right boot. Oh wait, one important detail that I have missed. See the shimmer? Those are Swarovski crystals of course. It is all courtesy of Orravan Design, but that boy Bakary does not do subtle hey?
Josh Gordon (Cleveland Browns) – Nike Mercurial Vapor Superfly IV (Custom)
I do not care that it is the wrong sport, but this boot spot is epic! Cleveland Browns wide receiver Josh Gordon has hit the NFL with a special pair of Vapor Superfly IVs in a sport where only very few players (normally the punter) go for normal soccer boots. So let us break down his boots. They are decked out in the colours of the Cleveland Browns, feature a nice little customisation on the outstep, but the best part is yet to come. It looks to us that Gordon's boots have been customised with the conical studs found on the soleplate of the Hypervenom. We think Gordon has twisted the arm of someone in the upper heights of Nike to get these beauties made, credit to the lad for doing it!
Didier Drogba (Chelsea) – Nike Mercurial Vapor 2.1
Let's go old school with this spot, real old school. If there was not enough reasons to love the Drog, he brought out an absolute classic while training for Chelsea's midweek UCL clash in the form of the Vapor 2.1, released way back in 1999. Seen as the bridge between the Vapor II and the Vapor III, Nike attempted to alleviate some of the blister issues players were facing with their 2nd generation Mercurials by launching the revamped Vapor 2.1. Alas, Drogba did not wear them at all in games this week, but it is nice to see such a great boot hit the pitch!
That is it for our boot spotting today, what was your favourite spot this week? Share your thoughts in the comments section below.