Boot switches, custom boots, new boots hitting the pitch, we have it all in the latest instalment of the Instep boot spotting! Here at the Instep, we trawl through the world of football to ensure we have only the best boot spots for our Monday articles. Some may still be getting over the week of football just past, but we are making sure we contribute with our weekly boot spotting article! Take a look at what caught our eye this week.
Thomas Muller (Bayern Munich) – adidas F50 adiZero TRX
This is one boot switch that has definitely flown under the radar. While the new F50 has now been out for several weeks, Thomas Muller rather sneakily traded in his Predator LZ II for the new adiZero, a definite change up for the German striker. The F50 has always been styled towards strikers, so Muller should feel that the F50 fits his game. We wonder whether we will see adidas promoting Muller in their F50 ads in the future…
Keisuke Honda (CSKA Moscow) – Mizuno Wave Ignitus III
Readers of the Instep will know that we are big fans of Mizuno, and with a batch of new colourways and breaking into the US soccer market, it has been a big month from a brand who has been pretty dormant this year. One of those new colourways is the Neon Orange/Black Mizuno Wave Ignitus III, which was given an on-pitch debut by none other than Keisuke Honda. The colourway fits in with the wave of bright boots we have seen this Fall/Winter, and the colourway launch begins what we expect to be a big 6 months from Mizuno prior to the World Cup.
James McClean (Wigan) – Nike Mercurial Vapor IX CR
A definite negative of James McClean's move to Wigan over the summer is that McClean has not appeared in the boot spotting columns as often as he did when he was at Sunderland. While Yannick Bolasie has arguably taken over the throne of the EPL boot nerd, it is still worth keeping an eye out for what McClean is wearing. And funnily enough, like Bolasie, McClean is rocking the new CR7 Vapor IX. While the CR Vapor IX is unlike any other boot ever released, the same will almost certainly be said about the upcoming Messi F50, and it's a boot that has to be seen to be believed.
Wilfried Bony (Swansea) – Nike Mercurial Vapor IX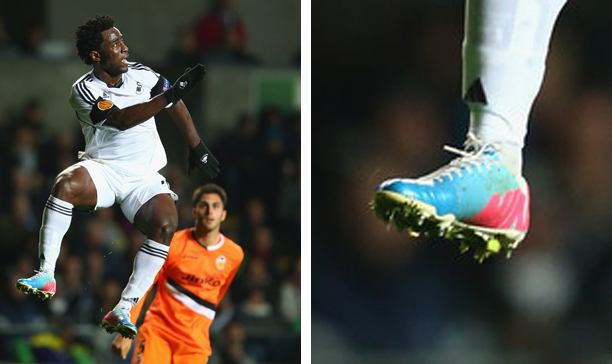 As classy as blackout boots are, blackout boots may sometimes get a little boring if you are wearing them week in week out. Maybe that is what happened to Wilfried Bony, who has made the switch to technicolour with his new boots. He has not gone for the newest Vapor though, instead going for the blue F50 released at the end of last season. Maybe they are a significant colourway for Bony, or maybe it is all he could get before the game, but it's interesting that he has not gone for the most recent Vapor colourway…
Maruoane Fellaini (Manchester United) – Warrior Sports Gambler Pro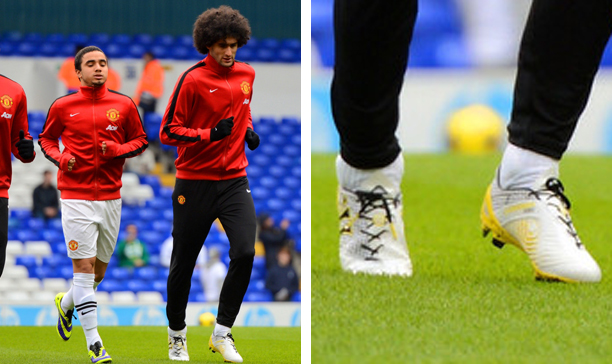 Warrior Sports have been all about 'in-your-face' colourways that are probably a touch too bold for the average footballer, but they have decided to go down a different road with their latest Gambler Pro colourway. And boy oh boy are we loving the result. For us, the new White/Black/Yellow Gambler Pro is perhaps as classy as you can get when it comes to football boots, but it is a pity we do not see them on the pitch too much. Fellaini was an unused sub in United's 2-2 draw against Tottenham, but we did get a sneaky peek at the boots before the game.
Jonas (Valencia) – Mizuno Morelia Neo
As we mentioned earlier, the orange Wave Ignitus III colourway was the second new colourway unveiled by Mizuno during November, with the Morelia Neo also receiving an update in the form of a classy Black/White/Green colourway. Even though cynics have said the boot looks suspiciously close to a past Nike Tiempo Legend IV colourway, the boots certainly look terrific on the feet of Jonas. With stars such as Kyle Naughton and Carl Jenkinson now promoting the Morelia Neo, Mizuno has slowly been building up their stock of players promoting their lightweight heritage boot.
Carlos Tevez (Juventus) – Nike CTR360 Maestri III
When you come out with a range of colourways that you are opening calling 'Hi Vis', you will always have a few critics who do not like wearing super bright football boots. Despite a number of weeks wearing the Volt CTR360 Maestri III, maybe Carlos Tevez wanted a boot that was a little more conservative for Juventus' midweek UCL fixture. He brought out the Blue/Volt/Black CTR360 III, the refreshing colourway that was released by Nike during the summer.
Gael Clichy (Manchester City) – Puma evoSPEED 1.2
There are some signs that can be picked up that tell that you might need to update your boots. If you are forced to tape up the toe of your boots before you wear them in a game, that may be one of the strongest signs you will ever run into! Not only that, out of perhaps pure desperation, Gael Clichy wore the 'ammended' blackberry evoSPEED on one foot and the black evoSPEED on the other. It certainly looks like something temporary from Clichy, but an interesting alteration nevertheless!
That is it for our boot spotting this week, what was your favourite spot today? Share your thoughts in the comments section below.