Everyone had a nice Easter? Alright, that is enough pleasantries, lets just get down to what we are really here for: the football. Well, specifically, we are here for the boot spots. And of course, you ask, we deliver. As with every week, our mixed bag of boot spots feature only the best boot switches, new boots and custom boots out there. Check out the boot spots that will have the boot world talking this week.
Neymar (Barcelona) – Nike Hypervenom Phantom (Custom)
There will be one pack of boots that will be the overriding feature of this week's boot spotting, and that is the Nike 'Intense Heat' pack that Nike athletes have finally been given the green light to start wearing on the pitch. Neymar made the switch from his signature Hypervenom to the volt Hypervenom, but there is something else that needs to be added to this boot spot. Neymar has customised his Hypervenoms with the stud outsole from the Tiempo Legend V. It is the first time I have noticed it personally (or maybe it is my memory going and he has actually been wearing it for a while), but hey it is worth pointing out either way.
Eden Hazard (Chelsea) – Nike Mercurial Vapor X
I keep thinking it looks so, so close to the World Cup Mercurial Vapor colourway, but I guess there is one or two shades between hyper punch and bright crimson…oh well. Eden Hazard gave his new boots a nice little debut, sinking a penalty in a game that will go down in history as the game where Charlie Adam scored that goal. A few weeks ago, we noted that Hazard had customised his boots with the carbon fibre outsole from the Superfly IV. But it is a little too hard to say whether he has had the same outsole customised on his new boots, given that the outsole of both the Vapor and Superfly are black.
Mario Goetze (Bayern Munich) – Nike Magista Obra
Is he the golden boy of the Nike Magista Obra? I would say he is, ever since he threw himself into world headlines with the winning goal in the World Cup final last year wearing the Magista Obra. Goetze joined a large number of his colleagues in rocking the new total orange Magista Obra. These days, it is kinda tricky picking a big name player in the Magista Obra, with so many stars instead wearing the low-cut Magista Opus.
Marco Reus (Borussia Dortmund) – Puma evoSPEED 1.3 (Custom)
This is one of the stranger custom boot jobs that we have seen this year, and with the pure lack of photos coming from the Bundesliga each week, only now have we been able to get a good photo of the rather interesting customisation that Marco Reus has made to his evoSPEED 1.3s. It looks like a normal evoSPEED from the distance, but a zoom in of the upper of Reus' boots shows his boots have the same undulating upper as the evoPOWER. It even tends to his boots could be a hybrid between the two boots. An interesting customisation from the Borussia Dortmund man.
Carlos Tevez (Juventus) – Nike Tiempo Legend V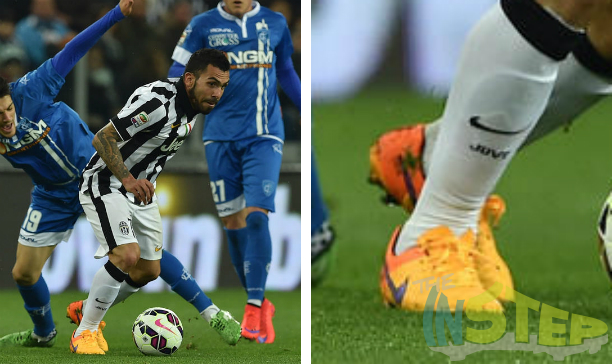 Remember when Tevez seemed to have a little bust up with Nike after wearing a blackout version of the Tiempo Legend V a few months back? That is definitely all done and dusted now, and Tevez has now decided he is going to stick to the boot release trends that everyone else is following along with. He was a number of new stars in the laser orange Tiempo Legend V, a boot which joins itself on the list of Tiempo boot colourways that hardly tend to follow the 'heritage' boot mindset that the Tiempo built itself on.
Lazar Markovic (Liverpool) – Mizuno Morelia Neo Made In Japan
Such a Brazil-inspired colourway from Mizuno, but is it not a bit strange that Mizuno did not make these beauties available for the middle of last year? Lazar Markovic is the first player we have seen in the Bolt/Black/Green Morelia Neo, but it is not what you call the most readily available Morelia Neo colourway available. The colourway is only available to those who get the special Made In Japan Morelia Neo, which uses Scotchguard K-Leather, the best leather upper that can be slapped on a pair of footy boots. It will set you back £250 mind you, so you better start saving those pennies if you want a pair.
Mathieu Valbuena (FC Dinamo Moscow) – Nike Mercurial Superfly IV (Custom)
Another case of a Nike footballer rocking a custom outsole, and it is not the first time we have seen a player going for what we see here. Valbuena has customised his Superfly IV boots with what appears to be the glass fibre composite that we have not seen since the Mercurial Vapor IX. The glass fibre composite may be somewhat less stiffer than carbon fibre, but I would not think it would not be that noticeable. In another little twist, Valbuena is also rocking the six stud SG stud option, something only afforded to the pros.
Roman Eremenko (CSKA Moscow) – adidas Gloro (Custom)
We seem to be picking up one or two players every week wearing the adidas Gloro range of boots. This time around though, Roman Eremenko has cut off the fold-over tongue on his boots, which is something I cannot quite understand. I mean, is that not the best part of the boots? They are so iconic, but maybe Eremenko is concerned about the tongue being in the way, hence he has taken the knife to his boots.
That is it for our boot spotting today, what was your favourite spot this week? Share your thoughts in the comments section below.