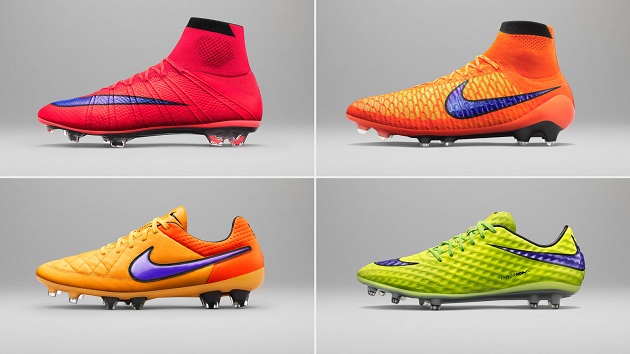 Nike has struck again with another improbably vibrant color-up across all four of their firm ground silos. Following the Highlight Pack, which featured highly visible upper colors accented by an even brighter Swoosh, the Intense Heat Pack has been revealed as its younger cousin. The two packs are related in that they share impossible-to-miss colors, but this new offering from Nike differs in that all four silos are marked with a Persian Violet Swoosh, offsetting the hot hues surrounding it.
The Intense Heat Pack is supposed to represent the rising temperature for club teams entering the final stretch of their season. However, the calm purple strikes a lovely contrast with its 'lenticular effect', which basically means the depth and shade of color will look slightly different from every angle. Alright, let's get to the individual boots.
Mercurial
Sliding in with a punchy Bright Crimson, this Mercurial colorway is one of the best since the introduction of the Superfly IV and Vapor X. I think the vivid red meshes wonderfully with the cool violet on the Swoosh. You can expect the players to jump all over this one. Alexis Sanchez, Eden Hazard, and company should be marauding around in these shortly.
Hypervenom
Streaking in sporting Nike's beloved Volt, the Hypervenom Phantom's Nikeskin honeycomb texture lends it a more compelling aesthetic than your average yellow boot. I'm not as crazy on this one as the last Hypervenom colorway (Blue Lagoon with Total Crimson), but it's another suitably flashy look for the games of Wayne Rooney, Daniel Sturridge, and Tottenham folk hero Harry Kane.
Magista
In its short lifetime, the Magista has run the gamut of colorways. They've done green, white, black, and yellow, so now it's time for Total Orange, I guess. Its Flyknit upper shows a lighter shade of orange seeping through, with orange and black combining on the outsole. Mario Gotze, Andres Iniesta, and David Luiz wear either the Obra or the Opus, but we will see if they all go for the orange paint job.
Tiempo
Last, and unfortunately least in my opinion, the Tiempo receives a poppy colorway with Laser Orange on the front and Total Orange on the back. You've seen the former on the Superfly recently and the latter right above this on the Magista. Gerard Pique and Andrea Pirlo are the heritage-minded players who don the leather Tiempo Legend.
Which color do you love? Which do you hate? Snatch your favorite from the Intense Heat Pack when it goes on sale March 27th.