Spot! Spot! Spot! Spot! Spot! Spot! Spot! Spot! Spot! Spot! Spot!Spot! Spot! Spot! Spot! Spot! EVERYBODY! Alright, cheesiest intro ever attempt made and…nailed it! Welcome in to the latest Boot Spotting here at The Instep! Monday might be trying to take your week and slam it into the ground before it even gets off the ground, but we're dragging those bad vibes and tossing them off the plane before liftoff. So gather up your friends, brace yourself for a variety of "oohs" and "ahs" as you peruse our spots, and make sure that your tray is back and your seat is in the upright position. It's time to launch into this week's spotting!
Adidas ACE 17+ PureControl
Paul Pogba (Manchester United)

---
It's amazing how a win can swing perception. Commentators were gushing over Pogba's performance and talking about how Kante faded into the background with this weekend's performance. For my untrained eye, it seemed like Pogba's game was better than his past efforts, but still a bit of a ways off from being the star Manchester United hopes he would be. It also seemed like Kante didn't have a terrible game…but, obviously these commentators are paid good money to notice things that we don't…so, yeah. It is interesting to see the face of the PureControl and, arguably, the heir to Messi's adidas throne revert into an old (very old) incarnation of his boot. It's an obvious decision to make for a player hunting better form, but certainly something the three stripes will be hoping to change immediately.
New Balance Visaro
Tim Cahill (Melbourne)

---
Tim Cahill is still banging in the goals, but New Balance hasn't been able to get the Austalian international into the newest version of the Visaro. Having worn both for quite some time, I can't say that I'm too surprised. It has been quite odd seeing the original vanguard for New Balance either leaving the fold our avoiding slipping into new versions of the boot. We aren't sure if the American brand is hoping for a bit of a rebrand or just wanting different faces attached to their boots, but it's been quite a roller coaster for any and all followers of the brand over the last six months.
Lotto Zhero Gravity VIII 200
Coke (Shalke)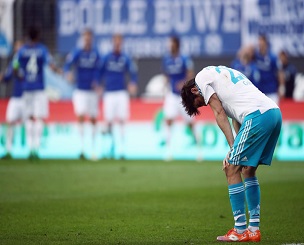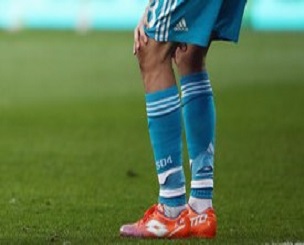 ---
Despite the lack of laces on the early Zhero Gravity being one of the only things people seem to know about the brand, the Italian boot maker has continued to make boots (complete with laces). The Zhero Gravity line has continued on, but with laces and a new paint job. Coke hasn't opted for the Italian flag version of the Zhero Gravity that has been released but…considering he has almost zero connection to Italy, it makes a bit of sense. Lotto is another brand that we don't get a lot of exposure to here in the states, but they'd be smart to avoid the Nike/Adidas stranglehold that exists over here. It's unlikely that we'll see them make the jump any time soon, but that won't stop us from enjoying them from afar.
Adidas MESSI 15.1
Jean Christ Wajoka (AS Magenta)

---
Probably the best public release MESSI 15.1 (there's no way we could let it compete against some of the special editions) release that hit the market. A slight upper change from adidas after the introduction of the MESSI silo was met with a rather mediocre response, this colorway avoided being as crazy as some or as boring as others for the MESSI. Sadly, the PureAgility hasn't quite shaken the opinion from the 15.1, but we've ditched the odd plastic that runs around the 15.1 and gotten some more wonderful colorways. I wonder how old Messi model boots will hold their value or be viewed ten years from now. Will there be collectors hunting for them? Will they fade into the cosmos and be fairly forgotten?
Nike Mercurial Vapor CR7 Natural Diamond
Edivaldo (Sport Boys)

---
On the opposite spectrum of signature boots, Edivaldo is rocking one of the best looking Vapor colorways that has existed in the last few years. While the newest Ronaldo signature model is gorgeous, the Natural Diamond colorway was a showstopper. CR7's standard release colorways definitely would take the edge over standard MESSI colorways…special editions? All bets are off! Either Edivaldo is a big Ronald fan wanting to show some support, or he's simply chosen a knockout colorway. We'll let you be the judge on which side of the fence he falls on.
Adidas ACE 17.1 PrimeKnit (Custom)
Luis Silva (Real Salt Lake)

---
I'm about to gush a little bit folks. Silva has customized his 17.1 ACE in a near replica of one of my favorite Predator set-ups. It reminds me of the alternate launch Predator adiPower that I would still offer a small organ to get in my size. Adidas could release this colorway a million times over, and fans would still line up around the block to snag a pair. What boot would they need to create in this color? Any boot…genuinely, any boot. While the original ACE 17 colorway was nice, leaving red as the dominant color meant we didn't quite get the Predator homage that we all secretly long for. If Silva wants to craft a pair identical to these and send them to me, I'd gladly cover shipping charges. (Seriously adidas…any boot)
Nike Mercurial Vapor XI
Isco (Real Madrid)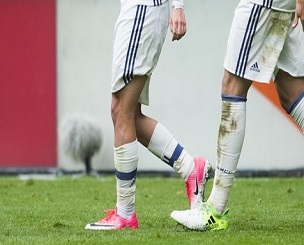 ---
This picture was perfect for this week's spotting for a multitude of reasons. First, doesn't the leather adidas X look like it could be a member of the Motion Blur pack? It's incredible how easily this boot could slot in next to the Nike options and be a definitie option from Motion Blur. Second, it will be fun to watch writers try and spin Isco into transfer rumors after his latest statement about how he doesn't want to leave Real…ever. Let's search out the brave soul to try and spin that one. Third, well…there isn't really a third, but the Nike Motion Blur pack has really stood out on the pitch. This feels more like a major tournament color option than just a standard option…still, we aren't mad.
Adidas Glitch
John Swift (Reading)

---
The adidas Glitch is a bit of a sore spot for any big boot fan here in the United States. It's an incredibly intriguing boot, but adidas is still content to only let the boot be available in London. Swift is rocking one of the newest colorway options for the interchangeable wonder, and, while we love the boot for spotting purposes, it just makes us jealous. Does adidas not realize that we have the internet? Every new Glitch release just makes us want the boot more and more…perhaps that's what the three stripes has been planning all along. Get us to where we think it's never going to happen (the boot coming stateside), and then make a big splash by launching the Glitch here in the United States. Come on adidas…we need this boot. Make it happen…
Umbro Accuro X
Ashlyn Harris (Orlando Pride)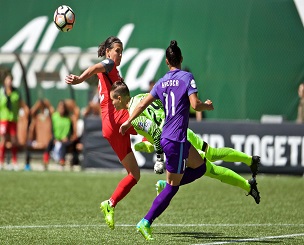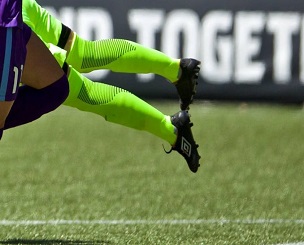 ---
TO start off with, Harris didn't win NWSL keeper of the year last year on some fluke. This picture shows her heading a ball well clear of the danger area, and it wasn't the only time her team needed her to come to their aid. A new NWSL season, complete with a fairly major network picking up the option to showcase the games to the viewing public, means that the American option for professional women's soccer is continuing to move up in the world. It's also awesome to see one of the strongest names in the women's game rocking the Accuro! Harris would be a fantastic option for Umbro to put some serious advertising power behind…perhaps we'll see the Double Diamond make that move sooner rather than later.
We've come to the end of another spotting, and it's time to start daydreaming about what fantastic spots we might scratch up for next week. Perhaps we'll find some more players wearing signature boots that aren't exactly made for them…perhaps we'll find players switching into a boot that we didn't think they'd ever wear…perhaps we'll even find a player wearing a pair of mismatched boots that Puma didn't mismatch on purpose. Not matter what we find, you can rest assured that they'll be here to greet you when the sun rises on your Monday. Get it!