Locality Pack
Who doesn't love a bright cleat? adidas has turned the brightness all the way up with the Locality Pack! Three of the adidas silos have gotten the all-over color treatment: the Predator, the X, and the COPA.
Predator 20+
This is the bold look that the adidas Predator has been begging for. The menacing silhouette of these updated Preds is more than just for catching the eye though. Control is the name of the game with 406 strategically placed raised spikes that are aptly named "demonskin". Certainly named after the wicked control that you get from the textured upper that is placed on top of a laceless knit construction gives you control in spades and strike zones throughout. The Predator does not stop there though, the Sockfit collar helps contour your foot and keep it locked down and supported. The tech doesn't stop there though, because at the base of all of this is the split construction Controlframe with polyamide-injected layers that leaves all the movement up to you.
X 19+
The well named "shock pink" color of the adidas X 19+ is just that, stunning. These are the perfect distraction to an opponent before you flash past them. adidas has put speed under the microscope for every aspect of these cleats. It all starts the the X-layskin upper that is unbelievably thin, while being textured for an awesome touch on the ball with the control zones that you can only get from a laceless construction. Next there is the low-cut Clawcollar, and 3D molded heel, which keep your foot locked down for maximized responsiveness. The final touch of speed is found in the Speedframe outsole that is perforated for quickness.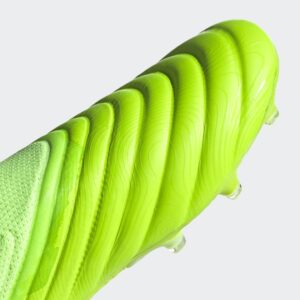 COPA 20+
A COPA that stands out, is there anything better? This "Signal Green" paint job is perfect for highlighting the incredible tech aspects of the adidas COPA 20. The Fusionskin upper seamlessly blends K-leather and adidas Primeknit for truly the best of both worlds. The comfort that you can only get from leather fused with the fit of Primeknit provides that supple touch while still hugging your foot. Oh you wanted even better touch? Ridges are molded into the upper throughout the laceless upper, and detailed contour lines on top of all that is the cherry on top of the icing on top of the silky touch cake. Lastly, these cleats are made for all day comfort with TPU Soft Pod inlays injected into the outsole targets pressure points for a smooth ride and cushioned feel.