If you're partial to Nike-designed boots, then boy, is this your day. The Swoosh has dropped the highly imaginative Radiant Reveal Pack with new color updates across all four silos for both genders. I'll dive into the men's side right now and Andrew McCole will be covering the women's side in a different post.
The idea behind this release is that as the days get longer and brighter throughout the spring, your play in this pack is meant to represent that change in light. To the big (radiant) reveal!
Mercurial
Just when you think they can't make the Superfly any cooler, they go ahead and pull off another eye-pleasingly creative design. The unifying aspect among this pack is the white on the upper. Here Nike has given the Mercurial Superfly the illusion of a thin white film over the top of an upper that transitions from bright shades of Pink Blast to Total Orange to Volt. Visually, it's super compelling; plus, it looks even better when contrasted with the black Swoosh and Dynamic Fit Collar.
But let's not sleep on the Mercurial Vapor X, because Nike has outdone themselves with this new design as well. Luminous colors gorgeously streak across its white upper, slightly setting it apart from its big brother, the Superfly. You can thank Nike for supplying such a distinctively well designed boot at a lower price than the top dogs.
Magista
The Magista never fails to come off as anything other than a handsome boot, but Nike have added a wonderful touch to the graphics on this one. The toebox has been frosted with white so that it fades into the other bright colors. Like I said, Nike somehow found a way to use white to give each boot its own idiosyncratic look.
Hypervenom
If you start at the top with the Hypervenom Phantom, it looks like a fairly normal black and white pair of cleats — until you get towards the bottom where there is an explosion of fluorescent colors on its jagged design. Of all four men's styles in the Radiant Reveal Pack, the Hypervenom gets the flashiest outsole, with an almost tie-dye sensibility along the soleplate.
Tiempo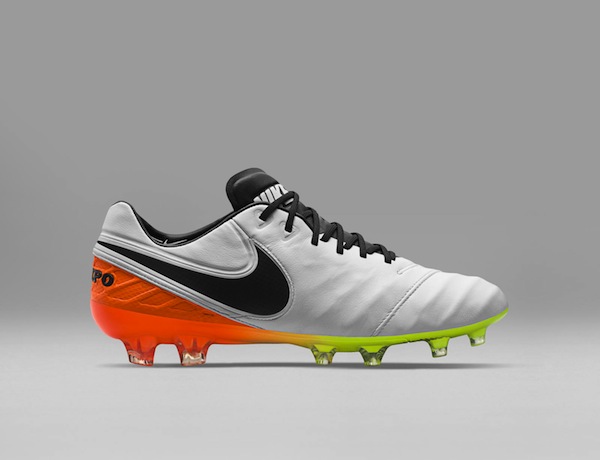 Similarly, the Tiempo keeps things pretty straightforward on the upper, using black and white as the simple setup for the brighter outsole. Volt and Total Orange blend into one another there, while "TIEMPO" stretches across in a bold manner.
Altogether, the Radiant Reveal Pack should be a hit on the men's, women's, and indoor/turf SCCRX side. The only thing left to decide is which one is your favorite.
Light up the competition when the Radiant Reveal Pack goes on sale March 29th on SoccerPro.com.