Football is well and truly back. With Champions League hitting our TV screens and the weather getting progressively colder (or warmer in my case in Australia, yay for me!), we will not be starved of entertainment over the coming weeks. The boot companies are making sure they are not forgotten either, with Nike and Puma becoming the latest to unveil their new boot colourways for fall. While we will have to wait another week for the Nike Hi-Viz collection to hit the pitch, The Instep has your first and best boot spotting round up of the week just past, take a look at what made the cut this week…
Cesc Fabregas (Barcelona) – Puma PowerCat 1.12
It seems fall and winter is going to be all about bright football boots on the pitch, and Puma followed on the idea set by Nike and adidas with their new Orange/Purple PowerCat 1.12 colourway. With so many PowerCat endorsers moving on to the Puma King, Cesc Fabregas is one of very few players left representing the PowerCat range, as he donned the new colourway this weekend. The PowerCat is expected to be updated before the World Cup next year, and it will only be a matter of time before we see Fabregas in prototype models of the boot.
Maruoane Fellaini (Manchester United) – Warrior Sports Gambler Pro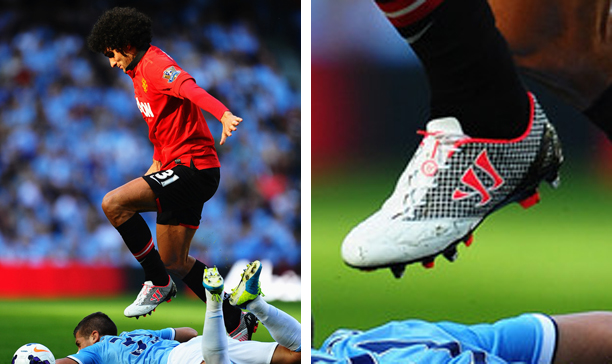 After releasing a predominantly black colourway to signal the entry of the Gambler Pro, it seems Warrior Sports are following the launch colourway up with a White/Black/Red Gambler Pro. While Warrior Sports have not yet officially unveiled the boot, it seems Fellaini was given special permission to wear the boot for the first time in arguably one of the world's biggest football matches. While a 4-1 loss would not have been the result Warrior Sports would have wanted for their United midfielder, we expect to see Warrior officially unveil the boot sometime this week.
Sergio Aguero (Manchester City) – Puma evoSPEED 1.2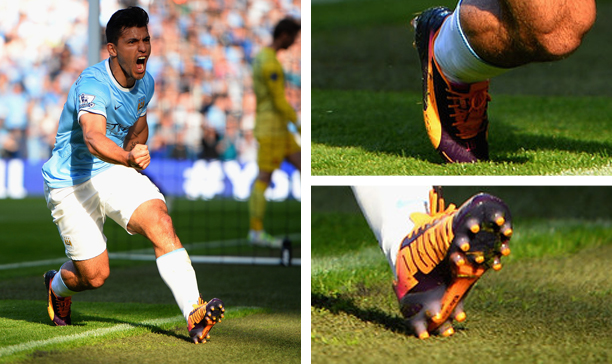 Puma also released a new colourway onto the Puma evoSPEED 1.2, and Puma could not have picked a better time to give the boots to headline athlete Sergio Aguero. The Argentine played a big part in Manchester City's demolition job of United, and factoring in his midweek European goals, 3 goals in the space of 5 days certainly does not hinder the evoSPEED name. After releasing the conservative Black/Green evoSPEED in the summer, Puma have notched it up a gear with the Purple/Orange release, and we can never complain about Puma experimenting with new colourway combinations.
Victor Wanyama (Southampton) – Nike T90 Laser IV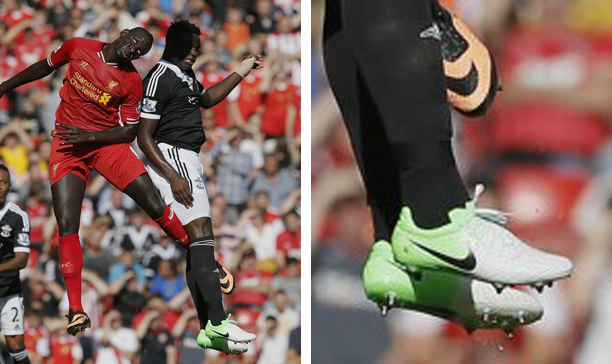 We have seen a number of athletes move from the T90 to the Hypervenom, but there have not been too many players moving from the Hypervenom and back into the T90. Perhaps there is something about the Hypervenom Wanyama cannot get his head around, because it seems the midfielder is in limbo when it comes to the boots he wants to wear this season. But in some good news for boot spotting fans, Wanyama brought out one of the best ever T90 Laser IV colourways in the form of the EURO 2012 White/Green T90. We wonder what colourways Nike will have in store for us once the World Cup comes along…
Tom Ince (Blackpool) – Unknown Warrior Sports?
With the 12 months that Warrior Sports have had, it is definitely worth keeping an eye on them as they make a push to gain the market share controlled by the 'big three'. Tom Ince signed on as a Warrior Sports endorser earlier this season to promote the Gambler Pro, but it seems Ince has been moved on to what may be the next boot Warrior will release to the market. It is always hard to make out the details of blackout boots, but the lightweight design of Ince's boots, plus the fact that Warrior are yet to break into the speed boot silo, does suggest Warrior may be trialling their entry into the speed boot market. We can make out a synthetic upper and the recognisable Warrior Sports 'Gloryholes' on the tongue, but we cannot make out much more about the boots.
Nicolas Anelka (West Brom) – adidas F50 adiZero TRX
Anelka is another pro who seems a little unsure about the Nike Hypervenom. The Frenchman has been flirting with both the Hypervenom and the Vapor IX this season, but now he has moved into the old Green/Pink F50 adiZero. Dubbed the 'watermelon' colourway, it is strange to see Anelka move to such an old colourway considering he wore the 2nd generation F50 adiZero less than a year ago. It will certainly be worth keeping an eye out for what Anelka wears over the coming weeks.
Kyle Naughton (Tottenham) – Mizuno Morelia Neo
Mizuno have not announced any new signings recently like they did a few weeks ago when they signed Carl Jenkinson, but Mizuno may have got their hands on another full back in the Premier League. After wearing the Tiempo last year, Kyle Naughton brought out the Morelia Neo during Tottenham's midweek Europa League game against Tromso. We could see an announcement by Mizuno about the player this week, but it seems Mizuno may be targeting young players to promote their boots in the EPL.
Jonjo Shelvey (Swansea) – adidas Predator LZ II (Custom)
Remember when the Predator used to be available in classic, tried and tested colourway combinations? As nice as bright boots are, there is sometimes nothing quite like your old school colourways. Jonjo Shelvey has found a solution, as the Swansea midfielder has fashioned himself a simple Black/White Predator LZ II on miadidas that matches up with his Swansea home kit rather nicely. We are glad to see that Shelvey is aware that the kit he wears is white and red. After his performance last Monday night, it seems Shelvey thought the team he plays for wears a red kit…
Luiz Antonio (Atlético Paranaense) – Nike Mercurial Vapor Superfly III
Retro Mercurials? We can never say no to that! Nike do not release a huge amount of predominantly white Mercurials (they have not released one for the Vapor IX yet), but when they do, they almost always turn out to be clean, gorgeous boots. Nothing says 'flashy' more than a white pair of boots, and perhaps Luiz Antonio has followed our thinking in bring out the White/Blue Superfly III. Nike always love to promote their Mercurial brand before a World Cup, maybe they will have something special for us come the World Cup next year…
That is it for our boot spotting this week, what was your favourite spot today? Share your thoughts in the comments section below.