Monday can only mean one thing, it is boot spotting time! A boot spotting courtesy of the Instep is the best way to kick-off your week, as we do the run down on the best boot spots the boot world had to offer this week. With a few new boots, retro boots and some spots that are a little bit…different. From Europe to Asia, check out the best boot spots with the internet's first boot spotting every week.
Lionel Messi (Barcelona) – adidas F50 adiZero TRX (Custom)
It is never bad to give your boots a goal scoring debut hey? Lionel Messi unveiled his new signature F50 adiZero TRX in what was arguably the most anticipated Champions League fixture of the season, and the bold kaleidoscope of colour certainly hit the eye a lot harder than the other boots on the pitch. While they do look like a standard F50 adiZero, Messi has had his F50s with his favored Goleo leather upper. The regular F50, meanwhile, comes with a Hybridtouch upper.
Christian Benteke (Aston Villa) – Nike Hypervenom Phantom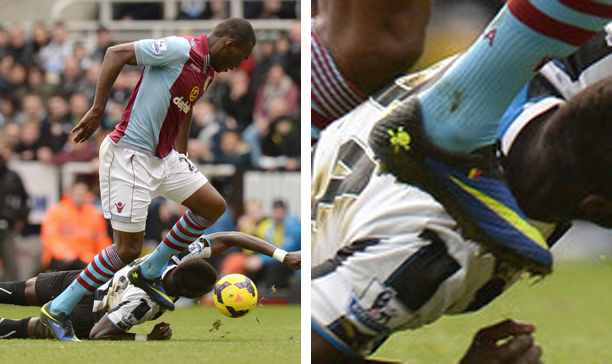 Bar one or two players, it seems every player in the Premier League is going with the Neo Lime/Black Hypervenom Phantom, so much so that you probably would not be aware that Nike quietly released the Blue/Volt/Black Hypervenom colourway. Christian Benteke insured the colourway got some sort of exposure in the Premier League, breaking away from the hordes settling with the green Hypervenom. However, we think we might not see Benteke in the boots for too long, with Nike set to release their next set of colourways for all of their silos in the next month or so.
Victor Valdes (Barcelona) – adidas F50 adiZero TRX
Have you ever heard of the Penalty range of football boots? Maybe not, the South American football boot brand decided to go for glory in signing Barcelona shot stopper Victor Valdes, but hit a bit of a snag thereafter and before eventually getting pushed out of the market. It has seen Valdes move onto a new boot, most notably being the new F50 adiZero. While it seems most keepers settle for a boot with more substance (think the Predator, Tiempo etc.), it seems Valdes likes to go against the grain a little by going with the F50 adiZero.
Charlie Adams (Barnet) – Nike Mercurial Vapor IX
We are not meant to see it on the pitch until next week, but it seems Barnet's Charlie Adams could not quite wait that one more week to bring out his shiny chrome boots. The new Vapor IX is a throwback to the 2002 Nike Mercurial Vapor I, and is part two of the four part series where Nike release modern day reincarnations of World Cup boots of the past. This boot carries a very famous past, the original Ronaldo wore the boots as he scored a brace to win the World Cup for Brazil over Germany in Yokohama. The '02 Vapor stands out on the pitch with it's reflective appearance, and we should definitely see it have more on-pitch exposure next week.
Youssouf Hersi (Western Sydney Wanderers) – Asics Lethal Stats III IT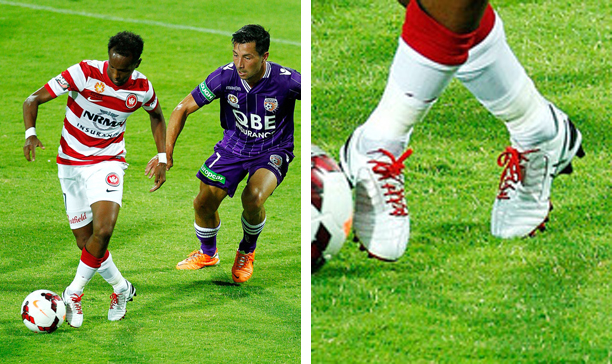 Generally, when you think of Asics and football boots, you probably think an Asics boot has a leather or synthetic upper with no real bells and whistles with it. Which is why we are rather surprised that Asics have become rather adventurous with their new Asics Lethal Stats III IT, with quite a bit of technicality involved with the boots. With a grippy medial section built into the upper for grip and a massive sweetspot, Youssouf Hersi's boots certainly look different to the releases we have seen from Asics in the past. Perhaps Hersi was convinced by team mate and fellow Asics endorser Shinji Ono to give Asics boots a go, the tricky winger has been pounding the Nike Hypervenom Phantoms for the majority of this season.
Steve Bratt (Referee) – Nike Tiempo Ronaldinho 10R
Bet you did not see this spot coming hey? The Tiempo Ronaldinho 10R was a legendary release to commemorate the effort of a legendary man, and with a huge sweet spot and fold over tongue, they were some pretty pimped out football boots. So who would have thought that the one person we see in the boots is referee Steve Bratt, who has done well to look after his Tiempo Ronaldinho 10Rs! The boots were released way back in 2006, but does anyone remember the leather ball that it was released alongside? That was pretty special…
Chico Flores (Swansea) – Nike Mercurial Vapor IX
Swansea full back Chico Flores loves his black Nike Mercurial Vapor IXs, but it seems that Flores decided to settle for something a little….different when it came to Swansea's midweek fixture against Valencia. The Spaniard decided to wear the Stealth pack Nike Mercurial Vapor IX on his left foot, but his customised Black/Green Vapor IX on the other foot. The only difference between the boots is the colour of the Nike logo on the heel and the Nike tick, so it may take a second look to realize Flores is wearing two different boots!
Jean Carlos Solorzano (Brisbane Roar) – adidas F50 adiZero Prime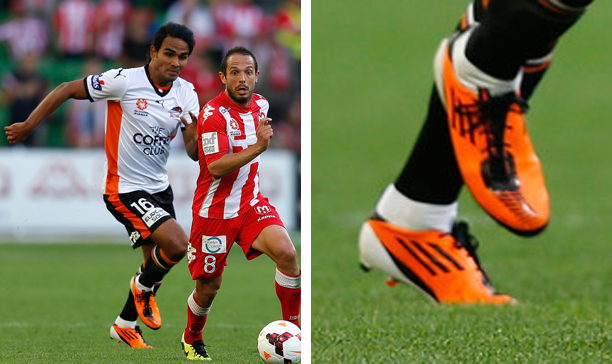 Remember when boot companies tried their best to be able to say they have the absolute lightest boot on the market? Those were some crazy days, with the 160 and even 150 gram barrier broken on a few occasions. The F50 adiZero Prime was one of the boots to come out of the lightweight era of boots, which shaved 20 grams off the regular adiZero to weigh in at 145 grams. Of course, shaving those 20 grams costs you in the hip pocket, and we did not see too many professionals opting for the Prime version. It seems Solorzano had a pair of the boots stashed away in his private collecton, and he brought the rarely seen boots in Brisbane's surprising loss to bottom-of-the-table Melbourne Heart.
That is it for our boot spotting today, what was your favourite spot this week? Share your thoughts in the comments section below.