ARE YOU NOT ENTERTAINED? Goals? We had 'em. Red cards? Those too. Undefeated teams dropping points? You better believe it. Factor it all together with big colorway updates from the entirety of the "big three" of football brands, and you've got yourself a winning weekend. Stellar Pack? Gorgeous. Floodlight Pack? Unstoppable. Puma's color update that we aren't entirely certain whether it has an official name? Beautiful. The leaves are turning, the temps are dropping, but the footy is still incredible and the pitches are being set on fire.
Dimitri Payet (West Ham)

---
There was absolutely no way that I wasn't going to include Payet in this week's spotting after his goal against West Ham. There's magic in those Mercurial Superfly boots for Payet, and, if West Ham are still near the bottom of the table in January, it feels fairly likely that the Hammers will lose their star man. If he pulls off many more goals like the one he had this weekend, then some of the bigger fish might even start circling. We love seeing a player debut a new pair of boots with class, and Payet certainly accomplished that. After he beats that second man, you know that there's only one thing on his mind…and he executed it wonderfully.
Puma EvoSpeed 1.5
Sergio Aguero (Manchester City)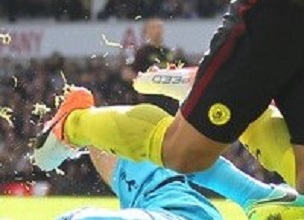 ---
It's a testament to how amazing your season has been if you can drop all three points and still have a gap at the top, without the season even being deep into October…that's how good City has been. If there's any team that you're going to hiccup against, losing to a thriving Tottenham is nothing to be ashamed of. It's still City's race to lose, and Aguero is going to be the man if Guardiola is going to see success in his first season. The Puma evoSpeed has only seen a small color change in its current update, but it is one of the few legitimate speed boots on the market still utilizing a barefoot/lightweight build to achieve success.
Grimaldo (Benfica)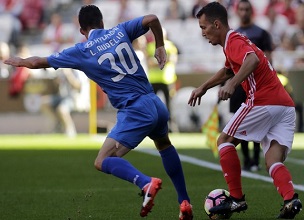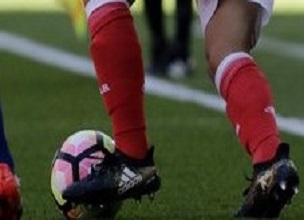 ---
While the brighter half of the Stellar Pack has certainly stolen the headlines over the past few days (and in the rest of the Spotting), we can't wait to see the negative half get its due very soon. With a reversed color set-up, the black Stellar Pack has each boot exchanging its typical synthetic for kangaroo leather. While we thought that we were just getting the Space Craft Pack with the leather, but it seems that even those of us unable to snag a limited collection boot will get to experience a leathery revolution. Considering how many professionals have already chosen the leather version over the synthetic (considering how amazing the synthetic version looks), we can't wait to get them on our feet.
Nike Floodlight Pack
Manchester City Ladies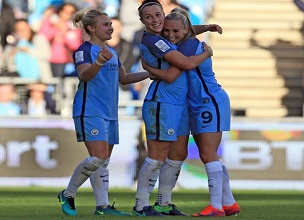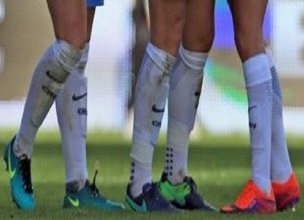 ---
If only we could find one image that included most of the Nike Floodlight Pack in one nice image…oh, wait. Showcasing three of the four Floodlight Pack members, the Manchester City ladies make these boots look even better than they do on their own. A perfect foil to the bright lights of a major fixture undertaken at night, the Floodlight Pack was getting some fantastic first run-outs this weekend. Looking for a great boot with a fantastic color set-up? You can definitely find a home within the Swoosh's latest outing.
Paula Junior (Shalke) Vestergaard (Monchengladbach)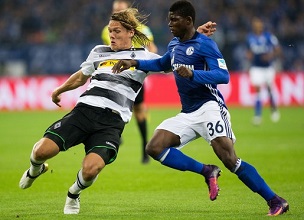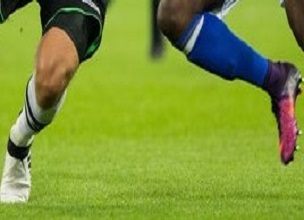 ---
A theme that will remain with us until the end of this week's boot spotting, we see Nike's new outings sitting next to the newest adidas toys. The Stellar Pack certainly stands out a bit more than Nike's boots, but the Nike boots find a perfect blend between Nike's propensity to go bright and Nike's control over fun and interesting colors. It's always fun when the biggest brands roll out new colors at the same time, but we typically don't expect it when there isn't a major tournament on the way. We'll settle the debate right now…we'll just snag them all!
De Rossi (Roma) and Perisic (Inter Milan)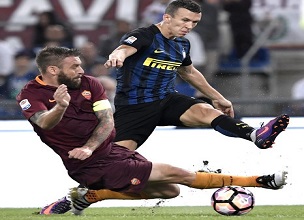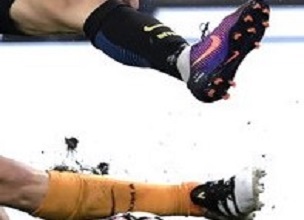 ---
Looking for which brand brings home the bacon on their boots that aren't technically their "top-tier" outings? Another tough battle…the Nike Vapor XI even pips the SuperFly V for our feet. On the other side, the PrimeKnit ACE 16.1 might be our favorite boot that adidas makes…or, at least tied with the PURECHAOS. Rossi has long been a marquee member of the three stripes, even moonlighting as the face of the Nitrocharge (R.I.P) for a time. Considering the ACE is certainly the beefiest boot adidas makes, we aren't too surprised he's found his home in this boot. We do want to know what he has wrapped around his boots…simply the way he laces? Or, some type of strap he's gotten adidas to add…get back to us.
Adidas ACE 16.1 Leather and Nike Mercurial SuperFly V
Matip (Liverpool) and Borja (Swansea)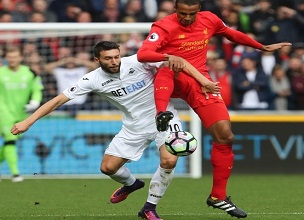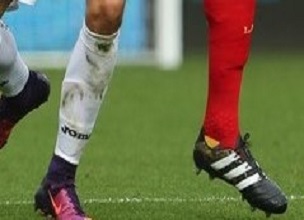 ---
Once again, we see the darker side of the adidas releases creeping onto the major pitches. Matip might actually (the horror) be bringing some stability to the Liverpool back-line, but Borja and Swansea gave Liverpool a real away test. Winning ugly is key if you're going to be successful, and any pair of boots looks great with Swansea's home kit. A note to companies: black boots with hints of gold, that's always going to be a fairly simple winner. Please, and thank you.
Nike Mercurial SuperFly V and Adidas PURECONTROL
Cameron (Stoke City) and Pogba (Manchester United)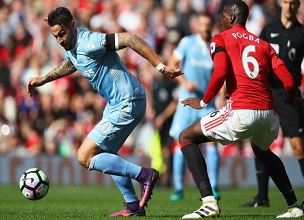 ---
Look, do we realize we've included Pogba in multiple weeks of spottings in a row? Yes. Will we apologize? Not as long he is wearing boots that stand out and look amazing on the pitch. United will only feel the pressure continue to mount with another case of points dropped, and Stoke will hope that they can turn this into something more than a short upturn. Cameron's SuperFly isn't the greatest pairing with the Stoke Kit, but we think Pogba's PURECONTROL would be hard-pressed to find any kit in the world that it doesn't match up with.
UNKNOWN
Pumas (Mexican Apertura Tournament)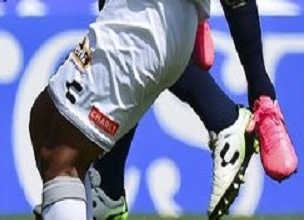 ---
The internet is a fantastic place. Normally, we can find anything with a simple Google search, but we're a bit stumped here. Maybe it was our lack of patience with the quality images we found for this match, or maybe it was just that our Wi-Fi got tired of running a computer, our PS4 (which, of course, was running FIFA17), and my phone…but, no matter what, we couldn't find out what this boot was. It's a bit disappointing, because it looks like a fairly well built leather creation that we wouldn't mind slipping our feet into…could we get a little help from the cheap seats?
Another week down, and a stupid international break on the horizon. Oh, sure, there will be soccer…but, it won't be club soccer…and that's what we want, dangit! We do have the NWSL finals to look forward to (the Portland Thorns got robbed), MLS playoffs run-in continuing, and playoff baseball…so, maybe we'll be o.k. What spots did you see? What spots did we get right? What did we get wrong? What the heck are those boots in the last picture!? Hit us up in the comments…