Every player has a "Copa" story.  Nike decided it was time to compete with the most storied boot in the history of soccer boots.  Which of these ultimate classic heritage boots deserves to grace your feet during your next season?  We have decided to find out.
Enter me…yes, me.  A guy that has tested countless boots in the name of equipment reviews and in order to provide in depth looks before having to spend your hard earned money online.  But, a guy that has never used the Copa Mundial…never.  Despite every weary traveler within the world of footy reviewing telling me to try the Copa, something always held me back.  Now, as practically the only person in the world (or so it seems) that can offer a truly fresh and open-minded view of the Copa, I decided to test one.
Enter the Premier.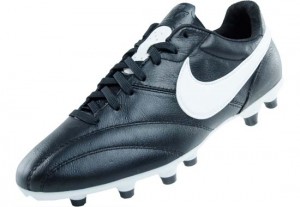 With the Copa seemingly standing alone in the boot world, Nike decided to pry the heritage gauntlet away from their German rival.  With a kangaroo leather upper, and every feature proclaiming about how it is superior to the Copa, the two pairs seem to provide a perfect showdown piece.
So, what have we done here at the Instep?  We have brought in one pair of the Nike Premiers and one pair of Copa Mundials.  The boot testing will occur side-by-side and every aspect of the break-in, performance, and general use will be presented in order to see which of these boots can truly claim the crown of being the best between the two.
Which boot do you think will win?  Which boot have you gotten a chance to use?  Stay tuned for the first round of the Ultimate Comparison as we compare the price points and the first impressions of each boot…I know I'm excited!