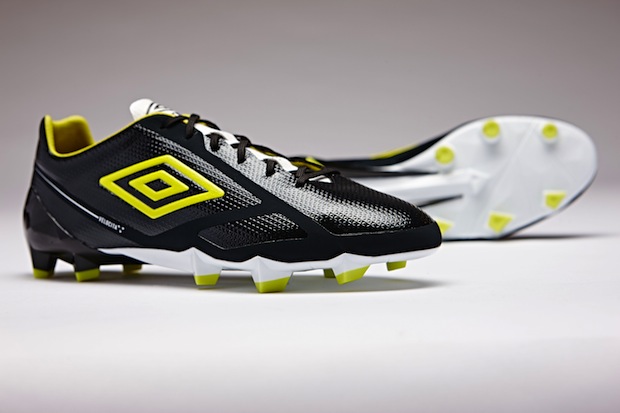 With everything that we are looking forward to in 2016, we certainly wouldn't have guessed that it would be the double diamond that would strike first in the new year. One year removed from making it abundantly clear that Umbro and Iconix were moving their brand back into contention with the biggest and baddest, Umbro has taken their headlining toy and updated it for the brand's ascent to continue. The original Velocita was a fantastic first effort, and Umbro has blasted the doors off with the Velocita 2.
Right out of the blocks, the first thing you notice is that the new Velocita is devoid of Umbro's legendary A-frame design in the midfoot. The dimpling on the upper has also been replaced by a different texture, one that reminds us of a few speed boots gone by. The tongue has also been altered from the triangle-happy design that the original Velocita's branding almost dictated to a more standard tongue on the new version.
Outside of those changes, Umbro has done something that we wish more brands would be willing to, and something that actually seems to be more of a risk than wholesale changes: sticking with something that works while changing some aspects that can easily be improved. We have seen Puma attempt this with their evoPOWER and a soleplate, but never has a brand stuck this close to something that was well received in its original form.
Just take a look at the Velocita 2.
Umbro has stuck with the soleplate, gone with a similarly crafted upper, and kept the weight at a similar level (165 grams). The changes aren't technically major, but Umbro seems to be letting something that has already garnered them some serious success continue its existence. How great would the Predator series still be if they had stuck with some of the more beloved versions and just made small tweaks? The world may never know…
Despite the main focus being on the update to the Velocita, Umbro has also brought out a new colorway for the Speciali Eternal. The classically styled boots are not a stranger to bright colorways, but the "shocking orange" might be the brightest to hit the heritage silo yet. Where the year ended with the blackout version of the Speciali, Umbro's making sure that all of their boots won't be missed on the pitch. We do think that this colorway would have fit perfectly when Umbro gave the UX-2 and original Velocita a dip in the "shocking orange" pool, but we certainly aren't complaining.
With 11+ months left, we wonder if this launch will stand the test of time against a year that will, inevitably, be chocked full of releases…no doubt the double diamond will be hoping the same thing.  Here's hoping that this is just a taste of the amazing boots to come!