To say that there was some intriguing footy on this weekend might be akin to saying that Real Madrid look pretty damn good this season…it's an incredibly obvious statement and we're just happy to be able to watch it. Still, all those professional players were zipping about wearing their favorite footwear, so we've gone hither and tither to find you the best spots of the weekend. We've got Swooshes, stripes, cats, diamonds, and a healthy dose of this, that, and the other. So get comfy in your chair, skip over the annoying stuff that this author guy typed, and start the morning off with two scoops of spotting. Let's go!
Marcos Alonso (Chelsea)

---
If you had told me that a HyperVenom player would score two goals in the Chelsea vs Tottenham fixture, I would have put easy money on Mr. Kane finding the net twice. However, with Chelsea scoring all the goals (including an own-goal), it's a very ominous start for Tottenham's time at Wembley. It wouldn't be a great situation to head into a new stadium without Champions League footy on offer, especially since the big stars would find a much easier pathway to the exit. If Tottenham are to keep their momentum from the last few seasons alive, they'll need to find a Wembley remedy…and find it fast. That being said, Chelsea look pretty good when they keep 11 players for the entirety of a game…
Philip Billing (Huddersfield)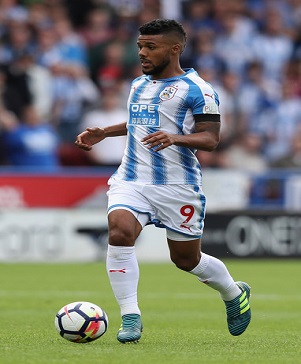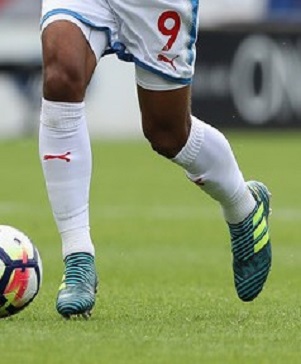 ---
Dear Puma, please hook us up with one of those absolutely GORGEOUS Newcastle United kits from the weekend. Heck, toss in a Huddersfield one as well…we won't mind. The Ocean Storm Nemeziz is a show-stopper, but it was tough to really look anywhere besides the incredible pairing that Newcastle was rocking. Black and gold is tough to mess up, and, although they were on the losing side to a Huddersfield club that looks full of surprises, Newcastle at least looked good. For this guy, up to this point, Puma is definitely winning the kit battle in the Premier League. Seriously big cat…you've gotta hook-us-up!
Antoine Griezmann (Atletico Madrid)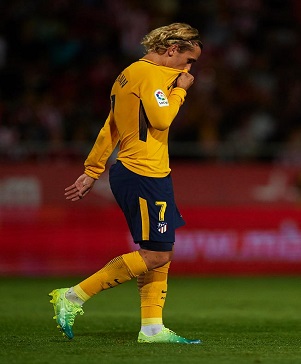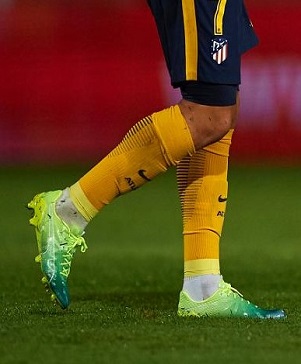 ---
Was it really that shocking to hear a player say that they might rather be on a team that's waltzed through two 4-0 victories instead of mired in his current struggles? Griezmann might be dreaming of red devils, but Puma needs to get on the phone with their star man as quickly as they can. With the Puma One still being a fairly young boot, the German brand can't let one of their biggest faces opt for a model that has long since passed its due date. We do enjoy the way the Fresh 2.0 looks on the pitch, and we were always in the mindset that it was an underrated boot…but you need your biggest billboard to be up to date. What's up Griezmann?
Isco (Real Madrid)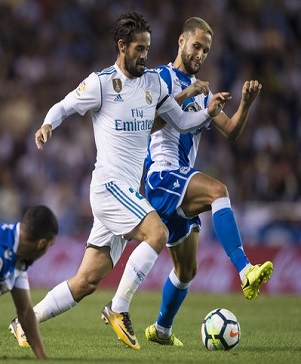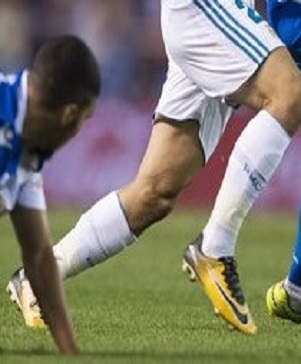 ---
Remember when we were starting to watch the Barcelona machine gain steam quite a ways back? It seemed like they were already a cut above everyone and their roster was set-up to ensure their dominance for years to come…remember that? We're seeing it again, but with the direct rival of the La Liga giants. Real looks unstoppable at the moment, and it's all being done with Ronaldo making cameos or serving out red card bans. Factor in the absolutely nasty talent from their younger players, and Zidane might have walked into one of the easiest jobs he's ever had. Teams that passed on Isco when he wasn't vital to the Real starting 11 have to be kicking themselves, Barcelona has to be wondering what they could possibly do, and the world has definitely taken notice.
Umbro Unknown
Gaku Shibasaki (Getafe CF)

---
The biggest news from Umbro recently has to be the new Medusae II that was launched, but Shibasaki looks content to rock some older Umbro boots. Sadly, my time with the double diamond only goes back so far, so I'm asking you guys to help me figure out what these boots are…it's a colorway that Umbro is very fond of, and the boot style looks like about a dozen boots that Umbro would have made in the past, but narrowing it down to an exact model has proven a bit beyond my reach. Help?
Iglesias Borja Valero (Inter Milan)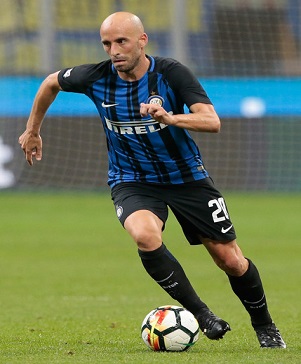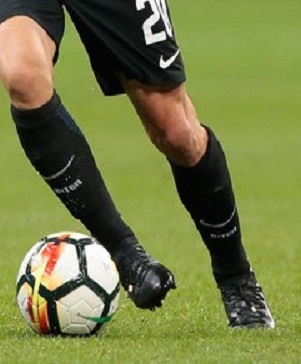 ---
We never tire of a blackout boot. However, it must be a big internal struggle for brands to release them…they have to know that if a professional gets their hands on a boot, that they'll have a player that could act as a potential advertisement for them, yet average fans will have no way to identify them. It's definitely why Nike keeps their Academy pack and Tech Craft packs away from their professionals, but sometimes pros can't help but be drawn to the dark and broody beauty of a blackout. Valero's choice is made even more interesting because he was using the most recent colorway of the Magista Opus II…so we wonder what the Inter man will be wearing next week. If you're adidas, are you making the phone call?
New Balance Furon 3.0
Kasper Schmeichel (Leicester City)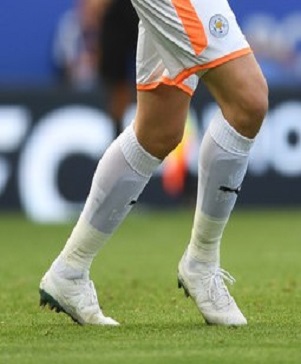 ---
From a blackout, to a whiteout. This is not the first time we've seen a New Balance player rocking these whiteout Furons, but we're still very confused by the color choice. A new launch should draw massive attention and allow would-be consumers a quick and easy way to hunt down the boot…whiting out such a new boot defeats that on multiple levels. Sure, it's a gorgeous boot, but it isn't exactly the perfect way to draw new fans into the New Balance fold. Still, what type of transfer voodoo has Leicester worked in order to keep almost the entirety of their players after they won the title…Schmeichel, Drinkwater, Vardy, and Mahrez would all have brought in big money…perhaps it just hurts me more as a Liverpool fan…
Nike Magista Obra II (Custom)
Jese (Stoke City)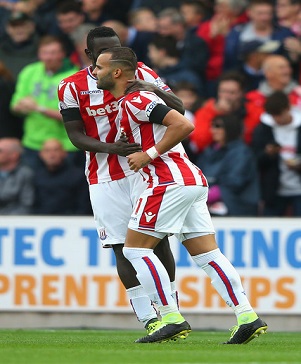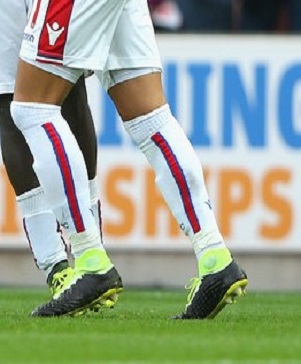 ---
Seriously folks, how many teams spent the entire off-season going "hey, we have these very obvious and specific problems, so let's buy players that don't address those issues at all"…? Arsenal and Liverpool spent all of last season leaking goals, so their solution was to spend money on attackers…which makes total sense. Jese made Arsenal pay (and Liverpool could have suffered the exact same fate if Benteke was a little more clinical), and made sure that Nike knew that he wouldn't be free advertisement. Can the ex-Real man be the solution to Stoke's problems?
Karol Linetty (Sampdoria)

---
Typically, we let players slide for their choices when they Nike ID a pair of boots. They spent the time and money to create a custom creation, so who are we to judge? However, Linetty's boots really don't make a whole lot of sense to me. While I'm sure there's a decent story to his color choices, there's no correlation to Sampdoria and the color combo (especially after the white inevitable gets some good grass stain-age going) just doesn't pop enough to make us think this was a worthwhile custom experience. Still, hats off to Linetty for taking a risk…
Uknown
Christoph Thuerk (Rostock)

---
Germany held their beach soccer championships over the weekend, and we couldn't help but marvel at every player using the exact same footwear. However, despite testing nearly every boot model in existence and pounding through these spottings every week, we're at a total loss for what the players were using at the tournament. It's obviously laceless, which made us think adidas…but the indentations for each toe made us think of the Under Armour SpeedForm…and we just couldn't narrow it down. Perhaps it's a young brand that has a contract with the beach soccer league…although, to be fair, they look downright comfortable…
That's a wrap on this week's boot spotting! We hope that you enjoyed our delicate dance around some of Europe's footy fixtures and found a few spots that you weren't expecting. We hope that this helps make Monday a little bit easier, and we're sure that you'll see some of these exact spots creeping up around the internet in no time (we take it as a compliment). Enjoy your Monday, leave us a comment about which spots you liked/hated/found devoid of humor, and we'll see you guys and gals next week!