The sun is finally setting on Rio, and day has certainly broken on the major European leagues. Action is coming thick and fast, and there are times where it seems that your couch should come equipped with a seat belt! Vengeance was sweet for Neymar and reality was harsh for Liverpool. Manchester United finally got to see their big money signing while Manchester City's big money continued to show top-tier talent. The return of Messi turned out to be a reminder of Suarez's brilliance, and Madrid was just fine without their #7. Let's dive in!
adidas Nitrocharge 1.0
Canadian Women's Rugby (Bronze Medal Winners)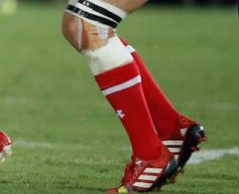 ---
It's completely odd to think that the Nitrocharge was once a member of the adidas line-up. It was an extremely short-lived silo, but acquired a host of fans looking for a boot in a post "true" Predator world. Luckily, for us, the Olympics still served up some fantastic spots before the last medals were handed out. As we mentioned last week, rugby is a veritable cornucopia of great boot spots. Half the Canadian team had on some stunners…congrats to them on the bronze medal!
---
Honduran National Team (Bronze Medal Match)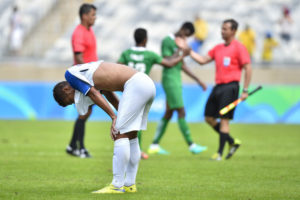 ---
One of the definite advantages of Olympic soccer is that a large number of the players getting serious exposure are yet to be signed to a major boot company.  This leaves them free to wear whatever boots they may choose.  Honduras might not be traveling home with a medal, but their footwear certainly caught our eye.  With a pair of the original HyperVenom on show (which, considering their noted durability issues, is extremely impressive) and the Vapor IX Fast Forward edition (we were a little more partial to the purple/orange version), we'd applaud this group no matter what the result.  Sometimes, it's all about looking good…
---
Kazuhio Goya (Japan Rugby Team)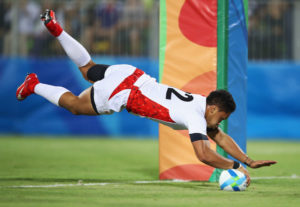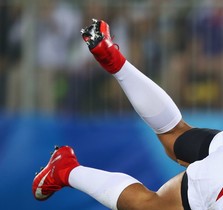 ---
It's impressive to find your way into two consecutive boot spottings.  Perhaps even more impressive is achieving that feat while not even being a soccer player!  Goya rocked some fantastic NIKE ID SF's last week, and switch it up for some impressive red SuperFly this time around.  While we think this is a custom job, Nike did showcase some red versions of the boot during France's kit launch…perhaps Goya knows a guy who knows a guy?  No matter how he snagged them, we might have to follow Goya a little closer in the future and see if he is the James McClean of the rugby world.
---
Sam Vokes (Burnley)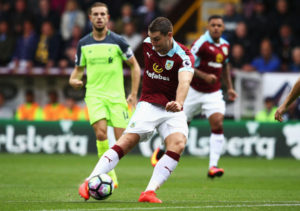 ---
Somewhere, the Barcelona class that enjoyed unprecedented dominance with Xavi and Puyol are texting each other going "See…it doesn't just happen to us!"  Despite a ridiculous level of possession, Liverpool got thrashed by Burnley 2-0.  Sam Vokes joins the majority of adidas X athletes by rocking the 16.1 instead of the X+ 16.  Suarez's hat trick, Bale's goal for Madrid, and others seem to opt for the X that does not boast a lace cover.  Are these players on to something?  We're anxious to see as we found the X+ to be phenomenal…could the standard X 16.1 be better?  Either way, Vokes won't soon forget what his boots accomplished on Saturday…nor will we.
---
adidas F50 Messi 10.1
Sailu (Nigerian National Team)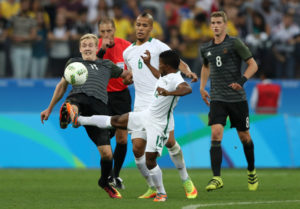 ---
Ok, this is our last Olympic spot…we swear!  But, come on, these were some great ones!  Perhaps feeling a special connection to a player that shares his vertically challenged body type, Sailu rocked a classic pair of Messi boots against Germany in the semi-final of Olympic soccer.  Adidas and Messi has finally given us a Messi boot that the man himself wears, replacing these older models that were given to the public in synthetic but worn by Messi in leather.  Much like Messi, Sailu found Germany too tough an opposition to take down.  His bronze medal will be worthwhile compensation, and perhaps Lionel will see his fan and hook him up with an updated pair of boots.
---
Paul Pogba (Manchester United)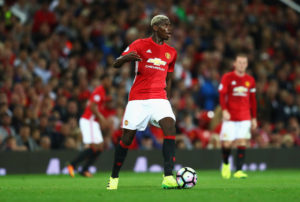 ---
The Red Devils finally got to see the first glimpses on their massive investment and early critiques seem to agree that Pogba brings something special to the United midfield.  Whether or not that "something special" will ever be worth the exorbitant fee that brought him "home," remains to be seen.  Still, United has taken a maximum number of points, gotten contributions from new signings, and will be seen as very capable title contenders.  If Pogba brings home some silverware with his first season, it will be tough to deem his transfer a failure of any kind.  #POGBOOM
---
adidas F50
Rene Klinbeil (Carl Zeiss Jena FC)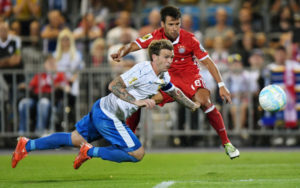 ---
Perhaps the shortest lived major boot release of all time, the last F50 to ever grace the pitch is still getting some use out there.  While there can be some debate about his boot choice, there can be no debate that his club name is incredible.  Rene's old school boots were not enough to topple the mighty Bayern, and he had to watch as Ancelotti and co. snagged their first hardware of the season.  Perhaps it's time to update his footwear?
---
Charly Musonda (Real Betis)
---
It's tough to see your team concede six goals, play against a player that will go down as one of the best to ever play the game, and still get some serious props and praise.  Musonda bypassed remakes, limited editions, and the current boots on the market for an absolute  stunner.  The Mercurial Vapor III is probably only sitting on a few people's mantels at this point, so to see a pair get some time on a major European pitch is truly exceptional.  Mad props to Musonda…a repeat performance next week?
---
This will be the last week where the Olympics and rugby provide us some great spots, but the European leagues are all in full swing.  It's getting tougher and tougher to simply narrow down the spots to a manageable number!  Was your team successful over the weekend or are you joining me underneath my Liverpool rock?  Leave us some comments on this week's spotting and we'll be sure to respond!