It's Monday already? In a weekend where the title race was turned on its head by a Mr. Danny Welbeck, we searched far and wide to find the very best boot spots from this weekend's football action. And thanks to the various boot swaps, custom boots and retro boots we found, we think we have put together a fairly decent boot spotting this week. Check out the spots that caught our eye this week below.
Romelu Lukaku (Everton) – Nike Mercurial Vapor X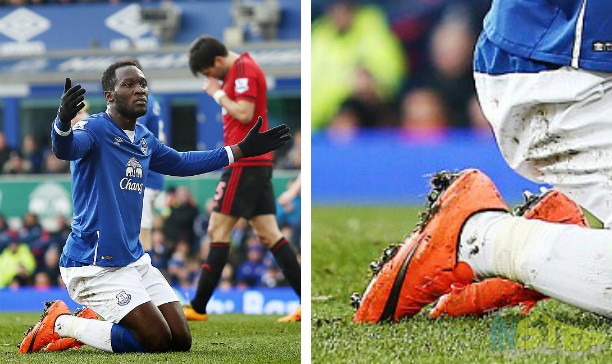 You know, this situation regarding Romelu Lukaku's boots has been fairly interesting this season. The big Belgian keeps interchanging from the Hypervenom Phinish to the Vapor X, and this week the Bright Mango Vapor X was the boot of choice for the striker. While we are sure Nike won't mind what he is wearing (as long as it's a new colourway), it is extremely interesting to note that the new Vapor X upper is much smoother than past Vapor X uppers. Whether it is a throwback to the original Bright Mango Vapor VIII and its smooth upper, we are not sure, but we wonder how they perform…
Memphis Depay (Manchester United) – Under Armour Speedform Leather
If one thing is for sure, Memphis sure likes his black boots. We believe this is about the 3rd or 4th black boot that Depay has worn this season, and this time Under Armour have opted for a bright fluro green Under Armour detailing on the next Speedform colourway. The colourway, which is yet to be released, is one in a string of extremely classy colourways from UA, and we hope they continue their good run of boots from 2015 into 2016.
Carli Lloyd (USA) – Nike Mercurial Superfly IV 'Leave Your Legacy'
While we always hear about the male athletes that get rewarded with a pair of boots to call their own, it was refreshing for Nike to give Carli Lloyd her own Superfly IV colourway. The ridiculously good looking White/Gold Superfly IV, fittingly named the 'Leave Your Legacy' boots given Carli Lloyd's impressive statistics, were finally worn by Lloyd during USA's CONCACAF qualifying game against Mexico. And damn, don't they look great on the pitch….
Caleigh Copland (Guyana) – adidas Predator X Womens
Any 5 year old pair of football boots is certainly worth slotting into our weekly boot spot. The Predator X was the first Predator to lose the fold-over tongue (something we will see later in this boot spotting), but compared to the ACE, it does remind us so much of the old Predator range (which I still miss). Copland is wearing the women's release White/Blue/Green Predator X, which looks a lot like the White/Yellow mens Predator X colourway. Nice Black/Red Magista Obra in the background too…
Yoann Barbet (Brentford) – Nike Magista Obra (Custom)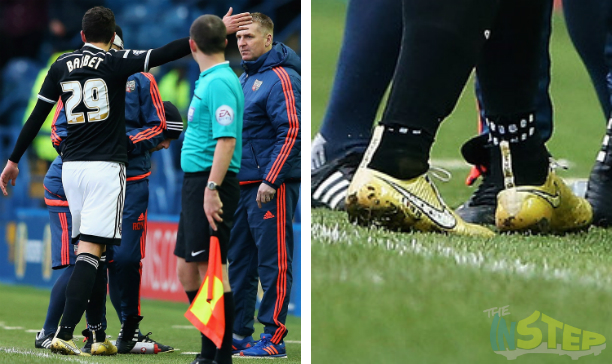 It takes balls to wear gold boots, the right is normally reserved for the best of the best (Ronaldinho, CR7, Messi, Neymar, Beckham), but Yoann Barbet has turned his nose at that rule with his custom Magista Obra. The defender has made up a rather eye-catching gold pair of Magista Obras, the audacity of which is something we are sure opposition fans would love to drill into Barbet for. Being sent off in less than 5 minutes on the weekend would not have helped Barbet getting ribbed too…
Alexandro Dercho (Osnabrueck) – Hummel X-Blade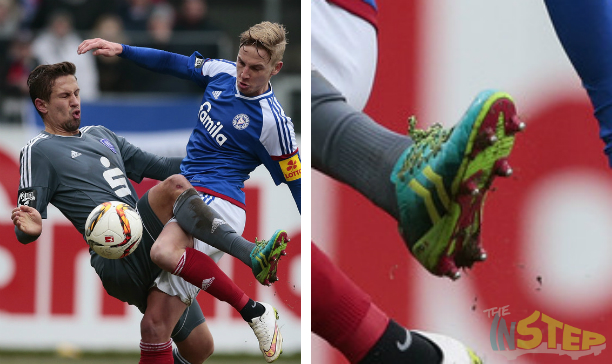 I will not lie, it took me a good 5 minutes to work out what Alexandro Dercho was wearing this weekend. Hummel, traditionally known for their no-nonsense heritage based K-Leather boots, have made a step towards the unknown with their latest boot, the X-Blade (yes, the same name as the company that produced boots around 8 years ago). The X-Blade seems to be a speed-orientated boot, and comes with a lightweight microfiber upper in it's rather snazzy blue, yellow and navy colourway. Besides that, we do not know much about the boot in all honesty…
Coach (SC Bastia) – adidas Predator Absolute
Did not think I would be putting a spot like this in my boot spotting…and while we do not know who the coach is, all I want to see is those fantastic Predator Absolutes on his feet. The Predator Absolute, one of the last few Predator boots to feature the iconic Predator fold-over tongue and all the traditional Predator elements. While I would personally be stowing these boots away for a rainy day if I had them, we think the SC Bastia coach is not sure how much his boots actually cost these days…
That is it for our boot spotting today. What was your favourite spot this week? Share your thoughts in the comments section below.