Another week of football means only one thing: another round of hot boot spots. Although I would like to add this was a very special week for me (I am a Norwich fan, enough said), we had some cracking action and incredible results this week. However, on to the boot spots, and we have our usual mixed bag this week. A few custom boots, boots we do not see often, it is the usual from us. Check out below what caught our eye this week.
Jonathan Kodjia (Bristol City) – Nike Mercurial Superfly IV CR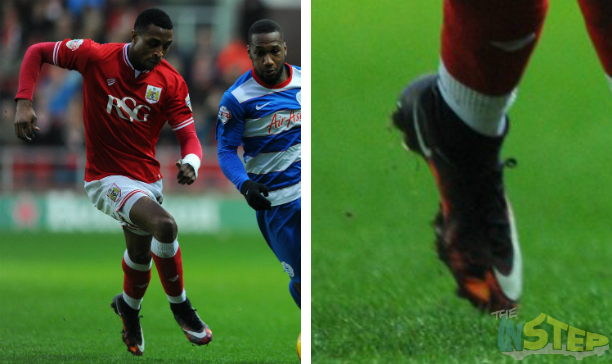 If you cannot play with your heroes, you might as well wear the same boots as them. That might be the recurring theme for our next two boot spots. Jonathan Kodjia has gone for something a little different with his new boots, opting for the latest installment in the Cristiano Ronaldo signature boot collection which pays homage to Madeira and its fiery volcanos. And like many of the signature CR7 boots that have been released, this one is certainly stunning on the pitch.
Daniel Nii Adjei (TP Mazembe) – adidas Messi 15.1
Soooooo adidas did let a bunch of kids tipped to make it to the next level wear the Messi 15.1 under the 'Backed by Messi' campaign, but hey that does not stop anyone outside of the campaign wearing the boots. So given that, it seems Daniel Nii Adjei simply picked up the new Messi 15.1 because he wanted something a little less mainstream, even if he looks like a bit of a fanboy in the process. Adjei did not get an opportunity to play with the Argentine magician though, as TP Mazembe were knocked out by Sanfrecce Hiroshima in the quarter-finals before they could play Barcelona at the Club World Cup.
Douglas (Sanfrecce Hiroshima) – Under Armour Clutchfit Force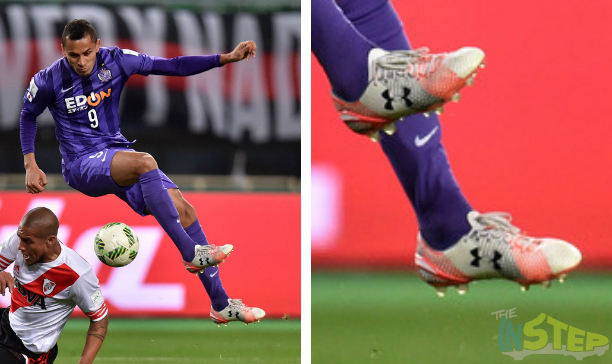 The Club World Cup has thrown up a few unique boot spots for us, including this one from Douglas of Sanfrecce Hiroshima. Sightings of Under Armour boots are normally few and far between, so we thought it was worth throwing in Douglas rocking the UA Clutchfit Force in Japan. The new Clutchfit Force was released a few weeks ago, a boot we spotted a week or so prior to the launch on the feet of Jermaine Jones, so we wonder whether Douglas is considering upgrading to the latest UA release.
Alessandro Del Piero (Champions Tour Team) – adidas Predator LZ II
Well Del Piero, we have not seen you in a little while. Del Piero has been enjoying the sunset of his career kitting up for Sydney FC in the A-League and for Delhi Dynamos in the Indian Super League, as well as appearing in the odd charity game. While Del Piero was wearing a blackout adiPure 11Pro when he was doing the rounds in Australia, the Italian has moved on to a new blackout, this time in the form of the Predator LZ II. Credit to Del Piero for sticking to blackouts though, stay classy buddy.
Atdhe Nuhiu (Sheffield Wednesday) – Nike Mercurial Superfly IV (Custom)
Custom boots made on NikeiD? Tick. Custom boots that are a classy blackout with a nice little twist? That has to be two thumbs up from us. Atdhe Nuhiu has put together a classy, understated Mercurial Superfly IV that looks quite nice with the Sheffield Wednesday away kit. What we would do to see Nike come out with a release like Nuhiu's custom Superflys…
Dwight Yorke (Champions Tour Team) – adidas Messi 15.1
Del Piero was one of several legends who fronted for the Champions Tour Team in Kuwait last week, as he was flanked by fellow stars like Dwight Yorke, David Beckham, Luis Figo and….David James (yeah, I would use the term 'legend' loosely around him). But while Del Piero went with the classy blackout Predator LZ II, Dwight Yorke went for the launch colourway Messi 15.1, something we would not expect from an old timer who would probably want to settle in something nice and comfortable. Maybe it is Yorke's way of putting forward his vote in the whole Messi vs Ronaldo argument…
Emmanuel Sanders (Denver Broncos) – Nike Hypervenom Phantom II
NFL players do not always make it onto our boot spotting articles (even though we did have Dan Bailey from the Cowboys on here last week), but when they do pop up, they automatically make our cut! We sometimes see punters in soccer boots, which makes sense, as soccer boots are not as chunky as American football cleats. But seeing wide receiver Emmanuel Sanders in a pair of Hypervenom Phantom IIs certainly adds to the intrigue of this boot spot (for those of you who do not watch NFL, this guy catches a ball thrown at him). At least the boots match up nicely with the Broncos kit too!
That is it for our boot spotting today, what was your favourite spot this week? Share your thoughts in the comments section below.