Barca smashed Real during El Clasico, Liverpool shocked Manchester City, the Jamie Vardy train keeps going strong and Chelsea broke their losing streak. It was a riveting weekend of football action, but the best way to cap your weekend off is with a round of boot spots courtesy of The Instep. There were quite a few interesting spots that caught our eye this week, from unreleased spots to newly released boots and a few odd spots, check out what made our cut this week.
Lionel Messi (Barcelona) – adidas Messi 15.1
Messi's return to the Barcelona side since his knee ligament injury was the focal point of much of the lead-up to El Clasico, but Messi was forced to take a minor role in Barcelona's 4-0 rout of Real Madrid as he came off the bench when Barcelona were already 3-0 up at the 57 minute. But it marked a first appearance for the new Messi 15.1, which is arguably the most eye-catching Messi 15.1 yet from adidas. The boot does, however, carry on the black base colour theme set by the Messi 10/10 that we have not yet seen on the pitch.
Sergio Ramos (Real Madrid) – Nike Tiempo Legend VI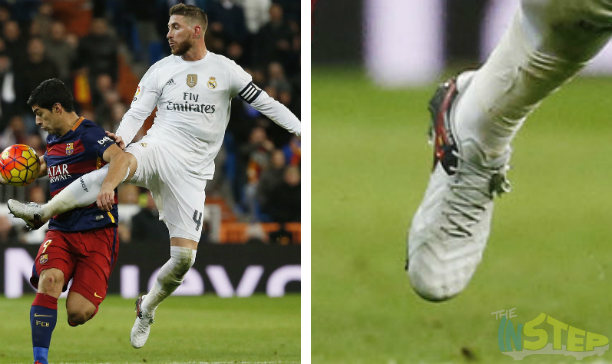 While Barcelona celebrated, it has been a dark few days for Real Madrid. But we are here to check out Sergio Ramos' new boots, which is the all-new Tiempo Legend VI. While the Tiempo is arguably the boot that least captures the imagination of the general public, it is the grandaddy of all Nike boots and has stood proudly in Nike's armoury for two decades. The new Tiempo Legend VI has eliminated the use of stitching to prolong the life of the boot, and you can grab your pair from our friends at SoccerPro.com on December 1st.
David Alaba (Bayern Munich) – adidas X15.1 Primeknit
So maybe the quality of the photo is not exactly crystal clear, but David Alaba has given us a sneak peek at the next adidas X15.1 Primeknit colourway. The Black/White/Shock Mint/Shock Pink colourway, which is the second every adidas X15.1 Primeknit colourway, is expected to be unveiled in the coming weeks and will form part of the Winter adidas football catalogue. The contrast of black and white looks fairly easy on the eye on our end, so we think adidas could be on quite a winner here!
Keisuke Honda (AC Milan) – Mizuno Wave Ignitus IV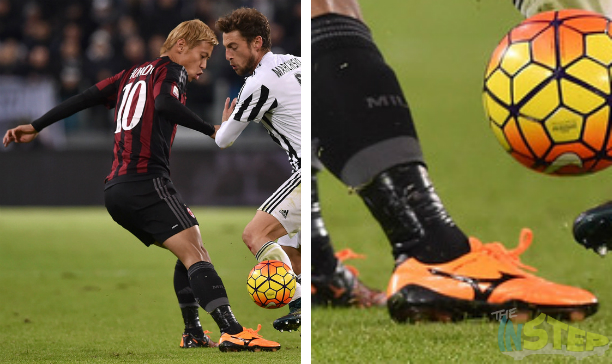 Even though he wore the stunning White/Black Wave Ignitus IV last week for Japan, Keisuke Honda opted for another new Wave Ignitus IV colourway this week when he returned to club action for AC Milan. The Orange/Black Wave Ignitus IV follows a similar design pattern to the White/Black Ignitus we saw last week, where the two colours take up half of the boot split right down the middle of the boot. The Halloween-inspired colourway is certainly bold, but we think Honda's boots last week look better than his boots this week.
Dani Alves (Barcelona) – Nike Mercurial Vapor X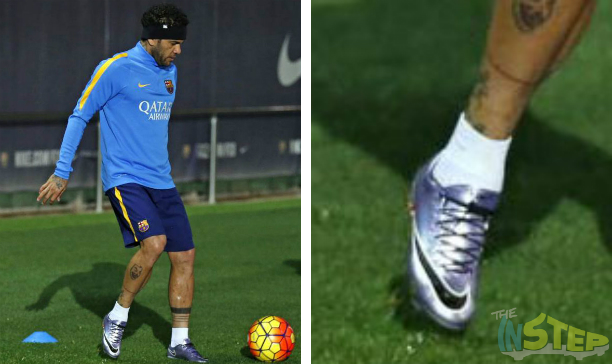 David Alaba was not the only player to show off unreleased boots in training this week. Dani Alves gave us a look in at the next Mercurial Vapor X, the all new Urban Lilac/Black/Bright Mango. Even though we do not see purple Mercurial Vapors too often, some of the most iconic Vapor colourways of all time have had a heavy use of purple (or something close to it). Think along the lines of the launch colourway of the Vapor IX, the Superfly II launch colourway and the Superfly II Elite worn during the 2010 World Cup. Trust us, this is going to be one popular colourway.
Stefan Strandberg (FC Krasnodar) – Nike Mercurial Vapor X (Custom)
Speaking of purple boots, Stefan Strandberg has gone for something a little bit different when it comes to his custom Vapor X boots. We have a feeling the Norwegian defender has hit up NikeiD to create his boots, as Nike are yet to release a purple Vapor X boot. His Purple/Black boots are not the most common of colour combinations, but we do appreciate the effort from Strandberg to go for something a little different!
Thierry Audel (Notts County) – adidas ACE 15.1 (Custom)
We have seen a blackout ACE 15.1 colourway hit the market, but a pure whiteout? Well, adidas has not entered that territory yet, as the closest we got to a whiteout was that of the White/Silver ACE 15.1 released a few months back. Thierry Audel has given us an idea of what a pure whiteout ACE 15.1 would look like, and just like any whiteout boot, the boot looks absolutely fantastic. Adidas do like releasing whiteout boots fairly regularly these days, so we might see one before the ACE 15.1 is discontinued in a few months time.
That is it for our boot spotting today, what was your favourite spot this week? Share your thoughts in the comments section below.