Clicking
View All
displays all results and may take longer for page to load.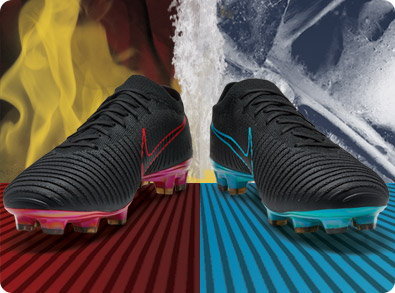 Take a closer Look
NIKE
Flyknit Ultra
Learn a lot more about the Nike Flyknit Ultra
Nike Mercurial Tier Breakdown - We Tell You the Differences
The Nike Mercurial has proven itself over the years to be the quintessential speed boot of the modern game. It's always been sleek, lightweight, and uber stylish, no matter which form or color it has taken. With each update, improvements have been made that have truly revolutionized how we think about soccer cleats. In its fifth generation, the Nike Mercurial Superfly has continually wowed players, while the Mercurial Vapor XI remains a standout boot.
How do you know which Nike Mercurial is the right one for you? Well, let our trusty Nike Mercurial Breakdown be your guide. On our blog, The Instep, we go through each different Mercurial, comparing and contrasting with the others to give you an idea of the technology and design differences between each one.
See the full breakdown on our soccer blog
The Instep - Nike Mercurial
section.