Spain Jerseys
—
At SoccerPro.com, you'll find the latest Spain jersey, and a large selection of other officially licensed clothing and gear. Spain jerseys are made to meet the same high standards as the kits the pros wear on game day. This performance activewear is lightweight, airy and breathable, and has moisture wicking properties that help manage perspiration on the pitch. Choose from a number of designs including red home jerseys, white away jerseys, jackets, soccer balls and more. Jerseys are available in a range of sizes for adults and kids. Cheer on a perennially popular team with apparel and gear from this collection.
Spain National Team Jersey 2022
Whether you're a superfan of La Roja who never misses a game, a collector of national club jerseys, or a casual fan who loves jumping on the bandwagon come World Cup time, these authentic jerseys deserve a place in your wardrobe or display. Manufactured by adidas®, the Spain jersey 2022 design is an elite piece of performance activewear on the pitch, and sporty-chic casual wear around town. Made from cutting-edge materials, these jerseys are breathable, and won't trap excess body heat. This will keep you from overheating, even while you compete under a hot summer sun. If you do start to sweat, this moisture wicking fabric has got you covered, literally. It's engineered to transport perspiration away from your skin, which will help you feel fresh and full of energy from the opening whistle to stoppage time.
Heading out to the sports bar for a few brews with your friends? Wear a Spain soccer tshirt from this super line. It's a great way to show off your allegiance while you watch the game, hang out with friends, or travel abroad. Start a pickup game with a Spain soccer ball from this line, or add a collector's set to the wall in your sports den or basement bar-room. Spain soccer apparel and merchandise makes a great gift for any fútbol fanatic in your life.
Shop premium national team soccer jerseys at SoccerPro.com today and enjoy lightning-fast shipping on your next order.
---
Players: Jese | Llorente | Nacho | Silva | Morata | Jese | Rodri | Illarra | Bartra | Ander Herrera | Carvajal | De Gea | Diego Costa | Ceballos | Busquets | Azpilicueta | Alonso | Alcacer | Brahim
---
PRIVACY: Your email address and content of your message are private and will not be shared outside of SoccerPro. Information will be used to provide a response to your request. SoccerPro.com may send you additional marketing emails related to soccer gear. You have the opportunity to 'opt out' of marketing emails at that time.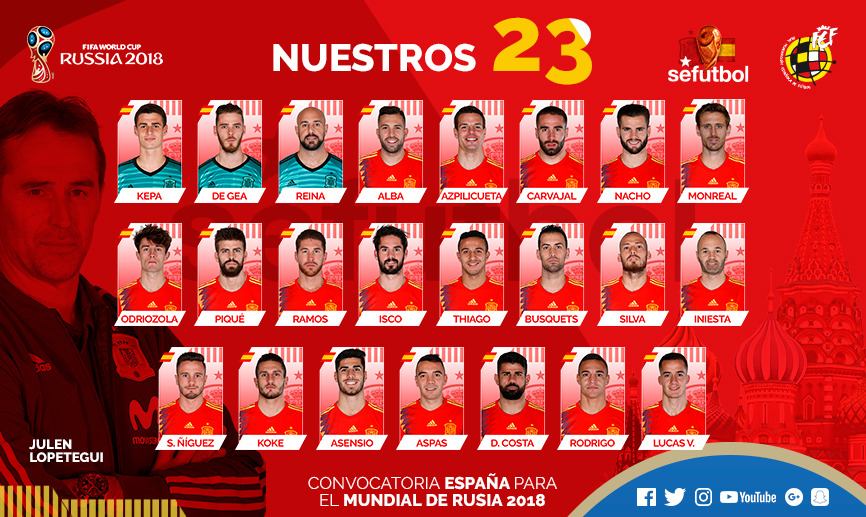 The Nations of the 21st World Cup – Spain
The heartbreak of the 2014 World Cup failure still haunts this group, with many of the same players still expected to play major roles this summer in Russia. That doesn't mean the goals are any less lofty this time around… [ Read more… ]