Real Madrid Jersey
—
Coach: Zinedine Zidane
Captain: Sergio Ramos
Nickname: Los Blancos
Titles: La Liga(33), Copa Del Rey(19), UCL(13), UEFA Cup(2)
True fans will love supporting Spain's top club with a Real Madrid jersey from SoccerPro.com. Shirts, jerseys and other training apparel and gear in our Real Madrid shop is made to meet pro standards. Enjoy apparel that's engineered to help you manage temperature and moisture while you compete, and tailored for an exceptional fit. For function, durability and comfort, browse Real Madrid soccer jerseys at SoccerPro.com.
Real Madrid Jerseys & Gear
Whether you're a diehard fan, and collector of La Liga apparel, or just looking for some great activewear, you'll find it at SoccerPro.com. For true super fans, it's important to have the latest kit. Made by adidas®, the 2019 Real Madrid new jersey is exactly like the ones worn on the pitch by today's biggest stars. High-tech apparel designed specifically for the game, it's non-restrictive, lightweight, breathable and moisture wicking. Stay cool, feel light on your feet, and reduce fatigue with clothing from this choice selection.
Whether it's a hot day sitting in the bleachers, an afternoon running errands around town, or a tough practice with your school's team, this premium clothing is up to the task.
The beginning and end of soccer season can be quite chilly in many regions. Choose the Real Madrid long sleeve jersey, and stay warm while you run drills with your team, pass the ball around with friends, or relax on your day off. From a tailgate party at the stadium to a night out with your buds, this well-made clothing makes fantastic casual wear.
At SoccerPro.com you'll find the white home jersey, the black away design, and the red Real Madrid 3rd jersey. Shop sizes for adults and kids, and outfit your whole clan with authentic fútbol kits from adidas. Jerseys and other officially-licensed equipment from this collection makes a wonderful gift for the soccer fanatic in your life.
Travel to Spain for a game, or cheer on the club from the local pub with top-quality Real Madrid apparel. Shop SoccerPro.com for premium soccer club jerseys today and enjoy lightning-fast shipping on your next order.
Top Players: Bale | Ramos | Modric | Carvajal | Isco | Courtois | Asensio | Casemiro | Benzema | Jovic | Hazard | Vinicius | Nacho | Rodrygo | Brahim | Eder Militao | Ferland Mendy
PRIVACY: Your email address and content of your message are private and will not be shared outside of SoccerPro. Information will be used to provide a response to your request. SoccerPro.com may send you additional marketing emails related to soccer gear. You have the opportunity to 'opt out' of marketing emails at that time.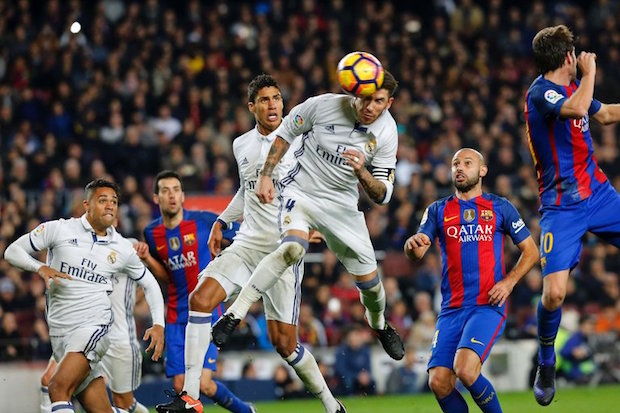 A Minute-by-Minute Post Mortem On The Champions League Final
If you read my preview of the Champions League Final (Hi Mom!) then you learned one thing: I am a genius. In all of my immense knowledge, I was able to correctly predict the (favored) Real Madrid squad would beat Juventus in Cardiff Saturday evening. I know, I know, you may bask in my greatness, I'll allow it. [ Read more… ]