Clicking
View All
displays all results and may take longer for page to load.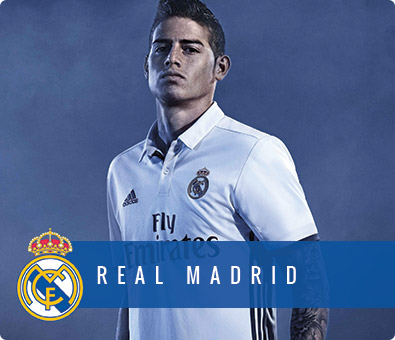 Real Madrid Jersey, Jackets & Shirts
The absolute biggest club in the world stares you in the face... the 4th highest number of stadium attendees in Europe (behind FC Barca, Dortmund and United)... one of three sides NEVER to have been relegated from La Liga... the record number of European Cup? Champions League wins... the richest football club on earth!

Real started out as Madrid FC (Madrid Club de Futbol) in 1902 as an extended offshoot of Football Club Sky, which was founded in 1897... the name of the club was changed in 1920 to Real(Royal) Madrid after permission from King Alfonso XIII.
11-Time Champions League Winners
Real Madrid are European champs yet again! Their latest was their second title in three years, as Cristiano Ronaldo and Co. defeated Atletico Madrid again in the Final. Los Blancos have now won the European Cup a record 11 times. Talk about a club with some history. Check out our expansive "Hala Madrid" series to read all about Real Madrid's illustrious history.
[read the rest!]