Real Madrid Jerseys
—
Coach: Zinedine Zidane
Captain: Sergio Ramos
Nickname: Los Blancos
Titles: La Liga(33), Copa Del Rey(19), UCL(13), UEFA Cup(2)
Why is the Real Madrid Jersey famous?
The absolute biggest club in the world stares you in the face… the 4th highest number of stadium attendees in Europe (behind FC Barca, Dortmund and United)… one of three sides NEVER to have been relegated from La Liga… the record number of European Cup? Champions League wins… the richest football club on earth! These are a few reasons why this jersey and club stand above all other white jerseys and all other clubs. You can get adidas Real Madrid Long Sleeve Jerseys, authentic jackets, sharp beanies, and much more apparel for Los Blancos here today!
Top Players: Bale | Ramos | Modric | Carvajal | Isco | Courtois | Asensio | Casemiro | Benzema
PRIVACY: Your email address and content of your message are private and will not be shared outside of SoccerPro. Information will be used to provide a response to your request. SoccerPro.com may send you additional marketing emails related to soccer gear. You have the opportunity to 'opt out' of marketing emails at that time.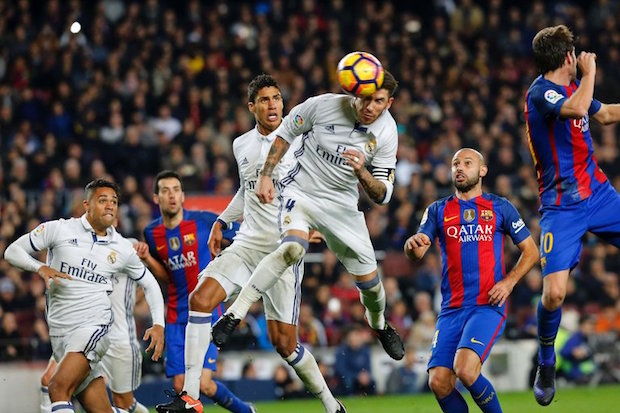 A Minute-by-Minute Post Mortem On The Champions League Final
If you read my preview of the Champions League Final (Hi Mom!) then you learned one thing: I am a genius. In all of my immense knowledge, I was able to correctly predict the (favored) Real Madrid squad would beat Juventus in Cardiff Saturday evening. I know, I know, you may bask in my greatness, I'll allow it. [ Read more… ]