Nike Phantom Venom Soccer Cleats
—
If aggressive acceleration and awe-inspiring agility are keys to your game, then Nike Phantom Venom soccer cleats are the boots for you. In this collection, you'll find a range of Phantom Venom styles that feature a Hyper-Reactive footplate, hybrid stud design, and a low-cut collar, all of which lead to excellent grip and explosive agility. A Flyknit upper with strike zone blades promises a snug, secure fit, and a touch response that will help you put maximum spin on your shots and passes. For comfort, fit, grip, and performance, the Venom line is popular with players of all skill levels.
Nike Phantom Venom Elite, Pro & Academy
The Nike Phantom Venom Elite is a professional-quality design that features Nike's most innovative technology. It offers a full Flyknit upper with Nikeskin texturing and All Conditions Control (ACC) finishing. Paired with a Flywire lockdown system and a sleek lace cover, these cleats are ultra-light and provide a snug, responsive fit, and incredible ball feel.
The PHANTOMVNM Pro line offers a synthetic K-lite upper with a similar Flywire lockdown lacing system. The Pro is an exceptional value for semi-serious and serious athletes on a budget. It's slightly heavier than the Elite, but still features a Hyper-Reactive footplate, Nikeskin coating, lace cover, and striking fins. The Venom Academy features a TPU outsole instead of the Hyper-Reactive design. It's a little heavier, but still provides great power transfer and fantastic traction.
Nike Phantom Venom soccer cleats are the boots of choice for many professional players, including Robert Lewandowski, Harry Kane, Edinson Cavani, Gonzalo Higuaín, and Marcus Rashford. There's a reason why these premium cleats are so popular: when sized properly, they feel like an extension of your body. If new cleats are in order this season, it's worth trying on a pair of Nike Phantom Venom soccer boots. Fast shipping and simple returns from SoccerPro.com make it easy to find the size that fits your foot perfectly. Dominate your opponent in a new pair of Phantom Venom soccer cleats from Nike.
Related Searches: Nike Mercurial Superfly 7 | Nike Tiempo Legend | Nike Mercurial Vapor | Nike Phantom VSN 2
PRIVACY: Your email address and content of your message are private and will not be shared outside of SoccerPro. Information will be used to provide a response to your request. SoccerPro.com may send you additional marketing emails related to soccer gear. You have the opportunity to 'opt out' of marketing emails at that time.
THE STRIKE ZONE:
Four Dimensions of the strike that Nike solved for:
1. Power and Energy Transfer – off the foot to the ball.
2. Controlling Spin – more bite from the boot to the ball.
3. Controlling Elevation – keep  control through precision.
4. Keep the ball in frame – angle of the strike zone.
FLYKNIT UPPER:
Full Flyknit upper covered with a skin to keep it weatherized and durable. Having a full Flyknit knit upper allows the VNM to mold to the foot right away.
– It also allowed Nike to create a lockdown system that doesn't create
additional layers on the boot. Flyknit allows us to thread flywire through channels that have been knitted into the Flyknit – creating dynamic lockdown with a customized fit. As players look to hit those lateral cuts, those sharp movements they make on the pitch, the flywire will capture the weight transfer and lock the foot down.
HYPERREACTIVE PLATE:
– It's all about enabling a player's natural motion – lateral cuts, medial cuts, as well as being able to stay in the ground, engaged longer, allowing them to create more torque on the ball and get themselves in positions that they need to be able to score.
– Every stud position has been strategically designed, focusing on medial and lateral cuts in the forefoot area, and then in the heel, it's all about breaking.
* Forefoot – mixed conical chevron for cutting and rotation.
* Midfoot – chevrons for cutting medially and laterally.
PRODUCT INSPIRATION
Nike wanted it to really scream out that this boot is equipment for players to score with. These players are ruthless. They have a mentality that they're full of confidence and so Nike wanted the design of the boot to really show that and mimic how they play.
PRODUCT STORY
The Nike Phantom Venom Elite FG is engineered for powerful, precise strikes that win games. Blades on the instep create spin to control the flight of the ball, while Flywire cables and a flexible HyperReactive plate provide the stability and traction needed to unleash at any moment.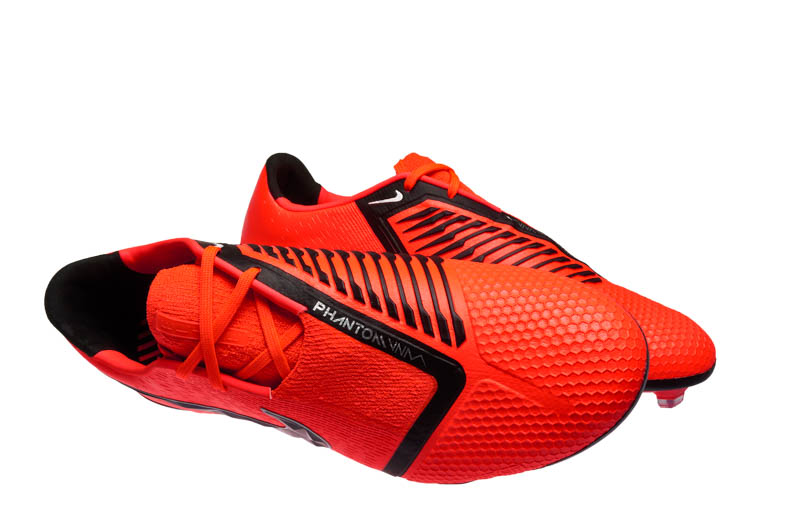 Nike PhantomVNM Elite Review
A departure from the almost required collar that Nike boots have sported in recent years, but still representing the FlyKnit flag. For anyone that has felt a slight hole in their heart with the T90 replacement of years ago, or were simply hoping for the HyperVenom Phantom IV, it will be a crazy ride to see if the Phantom VNM can check all… [ Read more… ]