adidas Soccer Shoes
—
Hit the pitch in the soccer shoes of legends. From Beckham and Zidane to Messi and Pogba, champions lace up adidas Soccer cleats. Adidas is at the leading edge of the industry when it comes to football boot technology and it shows in every shoe they make. Kick it old school with the Copa, a soccer boot that maximizes comfort and luxury. Leave your competitors in the dust with the Crazyfast or Speedportal. If dominating the competition is your thing, check out the Predator Accuracy. Whatever your style or game, we've got the adidas cleats to help you reach your max potential on the pitch.
adidas Soccer Cleats: A Legacy of Awesome 
Spot a soccer legend hoisting a trophy, and chances are they've got adidas on their feet. Adidas soccer boots have been a fixture in soccer nearly as long as the crossbar, so you can count on them for reliability, toughness, and speed. 
Studies show that wearing the right cleats can actually help prevent injuries. Adidas combines the safety features you want with the style you need. Because let's be real: everyone knows when you look good, you play good. 
Adidas soccer cleats take tech seriously. Even classics like the adidas Copa—which have been around since your dad was playing—are loaded with the latest innovations. Then there are hot new faves like the Adidas X Crazyfast worn by the greatest player in the world (*ahem, Messi). Also, you'll see benchmark shoes like the adidas Predators popular with Zizou and Pogba. Adidas Soccer Shoes are built to take on the toughest competition and catch the eyes of your soon-to-be fans.
All colors and sizes, leather, synthetic, all kinds of outsoles, you name it, and adidas has it. If you're looking for an adidas Soccer Boot that grows with your game, shop their selection of leather soccer cleats. As you break in the leather, it will mold to your feet, creating a custom fit that will boost your control and agility. Season start tomorrow? Consider a synthetic material; they don't need any breaking in, and you'll find they're a little more airy. After all, it can be hard to focus on the game if all you can think about is how cramped your feet feel. 
When you're looking for a soccer shoe that doesn't sacrifice style points for tech, look no further than adidas. At SoccerPro, our shipping is the only thing faster than Messi in his adidas. We have an unparalleled shopping experience, so whatever matchday calls for, find it by shopping with us.
Popular adidas FG Styles
Adidas soccer shoes are prized by your favorite stars because of the edge it gives them on the pitch. As you join the next generation of soccer stars, you can count on adidas to help you get there. Firm ground soccer boots are molded onto the outsole, making cuts and acceleration a breeze on natural grass surfaces on a firm base. 
adidas X | adidas Predator | adidas Copa
Find The Best adidas Shoes For The Playing Surface
When shopping for the perfect soccer shoes, the surface you play on matters almost as much as how cool you'll look wearing them. There's a pair of adidas no matter where you find yourself on your soccer journey. Adidas turf soccer shoes are made for the turf fields you might find at the college or high school level. Maybe you're grinding through the cold winter months and need adidas indoor soccer shoes. Opt for adidas soft ground shoes if the forecast calls for rain or you find yourself playing on professional surfaces. 
You can count on adidas no matter the surface. Shop the shoes for your style at SoccePro now!
adidas Boost | adidas Turf Shoes | adidas Indoor Shoes | adidas SG Shoes
PRIVACY: Your email address and content of your message are private and will not be shared outside of SoccerPro. Information will be used to provide a response to your request. SoccerPro.com may send you additional marketing emails related to soccer gear. You have the opportunity to 'opt out' of marketing emails at that time.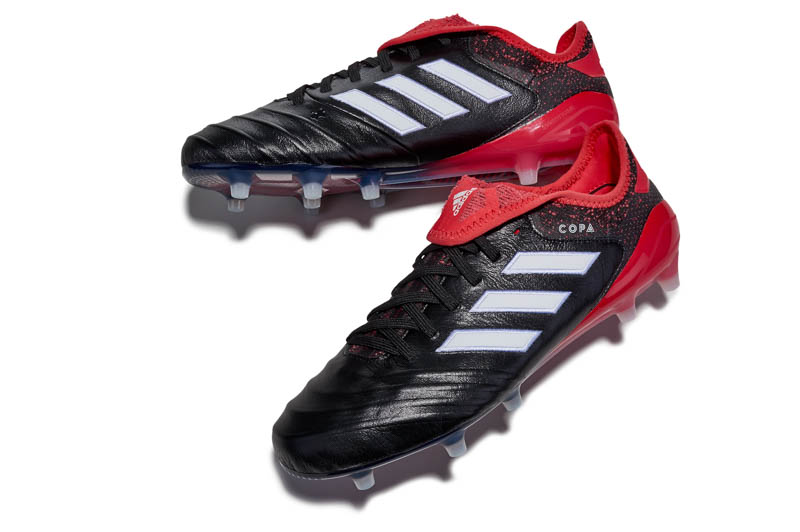 adidas Copa 18.1 Review
An old dog has learned new tricks The Copa has been a staple of the adidas brand for decades, and the latest generation is no exception. The adidas Copa 18.1, a boot with classic elements [ Read more… ]