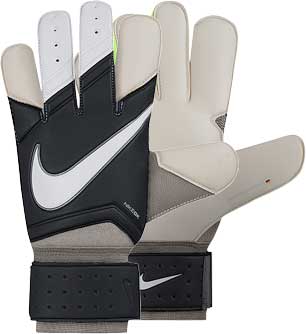 Nike Grip 3 Goalkeeper Gloves
Nike Grip 3 Goalkeeper Gloves
To be a goalie you must be fearless. The last line of defense is not for the weak spirited. This is a position that takes leadership and strength. Luckily the

Nike Grip 3 Goalkeeper Gloves

are here to support all your goalkeeper needs. Not only do they look amazing, but they will enhance your performance out on the field. Goalies have always been looking for a way to get a better grip and Nike now has the answer.




These gloves will keep you safe and comfortable while also allowing you to dominate. That is everything you could ask for from goalkeeper gloves. The amazing appearance of these gloves is just icing on the cake. Plus the black and white color combination will go with almost any goalie jersey. The Grip3 technology will protect your fingers from the hardest shots by wrapping around your thumb, forefinger, and pinky. These are just some of the amazing features that Nike has included in these gloves. See for yourself how awesome they really are and purchase yours today!




Nike definitely knows how to make amazing

goalie gloves

. Find your entire keeper uniform at SoccerPro.com!