Reusch Pulse Deluxe G2 Ortho-Tec Goalie Gloves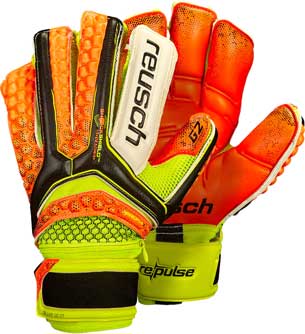 Reusch Pulse Deluxe G2 Goalie Gloves

Just like a warrior carries a shield into battle, a goalkeeper brings his gloves. A soccer match can get extremely competitive. When your back is against the wall, or goal line, you are going to want to have some support. Look no further! The

Reusch Pulse Deluxe G2 Ortho-Tec Goalie Gloves

are ready to have your back. These gloves are the definition of reliable. You are the last line of defense, so it is nice to have something reliable at your disposal and these gloves will always be there for you.




The field isn't the only place growing more competitive. Reusch has a strong history of excellence in goalie gloves, and that history became even stronger with the addition of these gloves. The black and shocking orange color combination looks as good as it sounds. When you think of the best goalies in the world, these gloves are what you imagine them wearing. Not only do they look awesome though. The G2 ultrasoft palm will give you that soft touch you need as a goalie while also staying extremely durable. The Ortho-Tec removable finger spines will allow you to customize the fit of your glove just for you while also keeping you safe on the pitch. These are just some of the amazing qualities that make these gloves so great. Purchase your pair today and see for yourself how awesome they are!




If you liked these gloves, you will love our selection of

Goalkeeper Gloves

at SoccerPro.com.