Clicking
View All
displays all results and may take longer for page to load.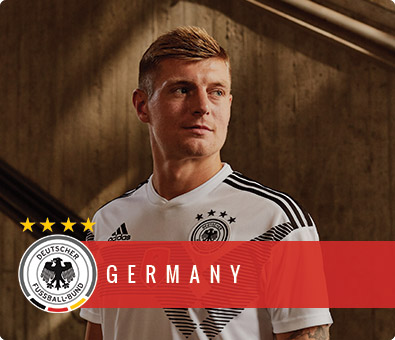 Germany Jerseys and Apparel
Die Nationalmannschaft, 4-time FIFA World Cup Winners (winners of the most recent World Cup, Brazil 2014) and looking to fatten that number up. Always strong and dangerous on the field, the Germans always put up a fight at home in Germany and play great soccer on the road.
The Germans have also won three European Championships to go with their World Cup wins. Support Joachim Löw's team with these sharp Germany Home Jerseys from SoccerPro today! Want a pair of soccer cleats to go with your beautiful Germany gear? Check out our adidas Ace Soccer Shoes selection!
Other National Team Soccer Jerseys:
Germany Wins Their 4th World Cup
Germany's World Cup glory consisted of a few incredible moments that will not be forgotten. The 7-1 thrashing of hosts Brazil in the semifinals, Miraslov Klose breaking Brazilian Ronaldo's all-time World Cup goal scoring record, and of course, claiming the country's 4th World Cup by winning the match in the 113th minute on an incredible chested-down volley from Mario Gotze to beat the Argentine keeper Sergio Romero. Lionel Messi had only a few chances in the match, most notably missing early in the second half just wide. Germany looked like the better team all match and in the end the better side won. The captain Philpp Lahm was able to raise the glorious World Cup trophy before retiring from the German National team. What a way to end an incredible international career! Germany's historic 4th World Cup win means they are only one away from tying Brazil with the most World Cups for any country. Germany came out of the Group of Death and proved that they were here to win it all and anything less would be a failure. It was an incredible World Cup for Germany, and at the end of the final match it was clear to see that the better team won... [read the rest!]