2016-17 adidas Vidal Bayern Munich 3rd Jersey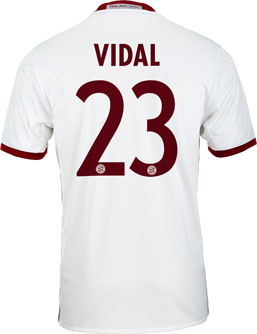 adidas Arturo Vidal Jersey

Winning cures everything. Bayern knows this all too well. They have been consistently on top of the Bundesliga year in and year out. There in the middle of it all is Arturo Vidal. You can celebrate Vidal and Bayern with this one of a kind

2016-17 adidas Vidal Bayern Munich 3rd Jersey

! This team is primed to make a run and the upcoming season should be one to remember!




This jersey is sharp. The jersey is mainly white with burgundy coloring and some gray features along the shoulders. The Bayern Munich team crest is located on the left side of the chest directly across from the adidas logo. Vidal's name and number are located on the back of the jersey in burgundy lettering. This jersey is awesome, don't pass it by! Order yours now!




While you are here check out some more of our selection of

Bayern Munich gear

at SoccerPro.com!