adidas Chelsea L/S Home Jersey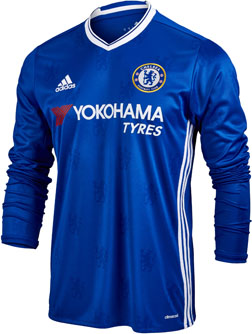 adidas Chelsea L/S Home Jersey

Every year during the transfer windows everyone anticipates Chelsea as big buyers. This team is incredibly entertaining to watch and follow due to there heavy buyers attitude. Landing guys like Hazard, Fabregas, Costa and Willian draw huge crowds and expectations. Chelsea is almost always up to the test. Make sure you support them by rocking the

adidas Chelsea L/S Home Jersey

on match days.




This long sleeve jersey is perfect for chillier days. Just in case a game breaks out, this jersey will still keep you cool and comfortable thanks to adidas' Climacool material. The blues didn't get their name for nothing. Their home kits are exclusively Chelsea blue with minor white details. The Chelsea crest can be found on the left side of the jersey while the adidas logo can be found on the right. Make sure you get yours today!