adidas Colombia L/S Home Jersey 2016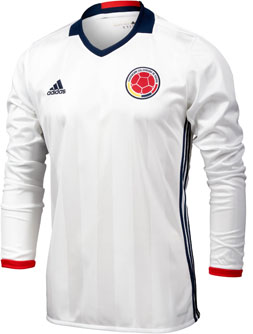 L/S Colombia Home Jersey

Colombia is quickly rising to the top of the soccer world. Their current FIFA ranking is 5 and no one seems to have any dispute about that. The

adidas Colombia L/S Home Jersey

is a great addition to any wardrobe. This is one of those jerseys that you will buy and then never take off! This jersey is not only one of the best looking jerseys, but the long sleeve version will keep you warm when its cold and comfortable in just about any condition.




Whether you are a die hard fan or not, you will fall in love with this team quite easily. What is there not to love about them? The talent, the excitement, and the longevity that this team has is unmatched. The jersey itself is one of the coolest we have seen in a while! The white, navy, and red color combination looks very sharp and the long sleeves just add to the excellence that this jersey is. The Colombia team crest and the adidas logo can be found on the front of the jersey across the chest and they serve as a seal of approval for this awesome jersey! Don't waste any time in getting this jersey! It is only going to get more and more popular.