Authentic adidas FC Dallas Home Jersey 2016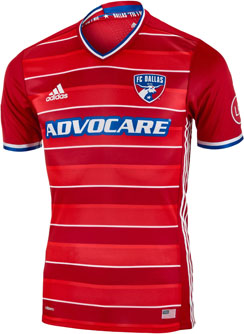 FC Dallas Home Jersey

The best in the west are back! This year FC Dallas has there eyes set on the prize. Winning the Western Conference was a great accomplishment but winning the championship is the main goal. Be there on their journey to glory with the

Authentic adidas FC Dallas Home Jersey

. This jersey doesn't have any magical powers, but it sure seems like it does!




We all want to be like the pros. This jersey will give you the chance to do just that. This is the actual jersey the players wear on match day. You know that the pros are getting the best material and technology in their jerseys and that is what you can expect with this jersey. Nothing but the best! Not only is the material and technology top notch but the design and the colors are awesome! The white background looks amazing with the blue stripes across the jersey. Throw in the FC Dallas team crest and the adidas logo and you have one of the best jerseys in the league! Don't miss out on this chance to own the coolest jersey on the market, get yours today!