adidas Manchester United L/S Home Jersey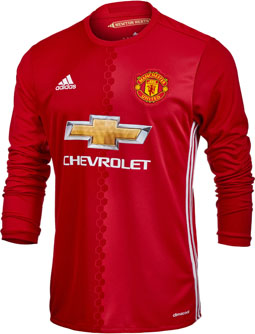 adidas Manchester United L/S Home Jersey

The Manchester United faithful has had a rocky road the past couple of seasons. The normally dominant club lost one of its best managers of all time in Alex Ferguson. But looking forward, the Red Devils have a lot to be excited about. Young players are stepping up and playing well for them. Guys like Anthony Martial, Memphis Depay and David de Gea are shaping up to be the future on Manchester Untited. With leaders such as Wayne Rooney and Bastian Schweinsteiger, the young lads will have plenty to learn as they compete to win the Premiere League and EUFA tournaments.




The

adidas Manchester United L/S Home Jersey

is great to have on the nippy match days. Being long sleeve, it will keep you warm but still show your support. The shirt is made from Climacool material that allows it to keep you dry if temperatures do start to heat up. The jersey is a solid real red color with white details that give it a classic ManU look. The Manchester United crest is located on the left side of the jersey while the adidas logo is on the right. ManU's sponsor is located in the middle of the jersey. Make sure you get yours today!