Authentic adidas NY Red Bulls Away Jersey 2016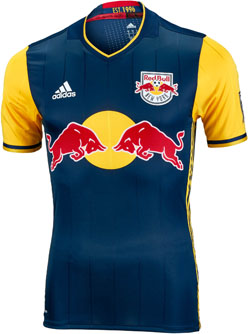 New York Red Bulls Away Jersey

They can smell it they are so close. The Red Bulls are starting from scratch and have their eyes fixed on a championship once again. A year after a first place finish in there conference, they are back with vengeance. The

Authentic adidas NY Red Bulls Away Jersey

is sure to be selling like crazy for this upcoming season. This team's continued success has kept them a hot topic amongst soccer fans. This year is no different as the team is coming off one of their most successful seasons.




It has been two years in a row that the Red Bulls have stopped just short of the MLS Championship. This year they are looking for your support to push them through! This jersey has got everything you could ask for. The navy blue coloring looks great with the red bulls on the front. The team crest and adidas logo are located directly above the club sponsor as usual. This jersey is awesome and once the Red Bulls get going again this jersey will continue to grow in popularity.