Authentic adidas Philadelphia Union Home Jersey 2016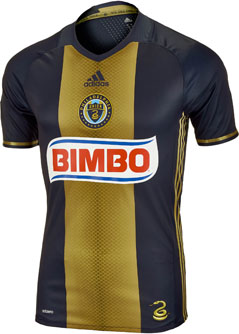 Philadelphia Union Home Jersey

Philadelphia has always been a very competitive and passionate sports town. The Philadelphia Union have fit perfectly into the sports atmosphere there. The

Authentic adidas Philadelphia Union Home Jersey

is one of the coolest jerseys in the game. Philadelphia rich history in the revolutionary war comes out in their jerseys and their motto. This team is here and they are here to stay. Philadelphia is ready to take the soccer world by storm and show their passion for their city.




Some of America's greatest heroes are from Philadelphia. The Union is carrying on that tradition with their ever improving roster. This jersey just yells "America"! The navy blue and gold colors represent the revolutionary era and the colonists that formed this great country. The team crest has the same Colonist theme. The thirteen stars around the border of the crest stand for the original thirteen colonies. The snake in the crest is a reference to Benjamin Franklin's political cartoon that helped start the revolution in the colonies. There is so much more to this jersey than what meets the eye! It is truly one of the coolest and most interesting jerseys on the market. You have got to see this for yourself!




This jersey is awesome! While you are here check out some more

MLS Soccer Gear

at SoccerPro.com.