Puma evoPOWER 1.3 Soccer Ball - Solar Yellow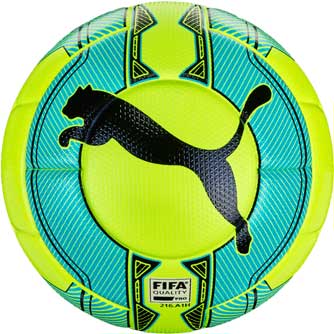 Puma evoPOWER 1.3 Match Ball

There is so much to love about this soccer ball. It was love at first sight for us here at SoccerPro. The

Puma evoPOWER 1.3 Match Ball

is the definition of soccer ball greatness. This ball has so many qualities and features that set it apart from any other ball. Soccer balls are like your best friends they are always there when you need them. Unfortunately, some best friends don't last just like some soccer balls don't last. This soccer ball is like a super best friend that will never leave your side. Its incredible durability is unmatched.

The solar yellow and atomic blue color combination will catch your eye, that is for sure. This ball is got everything you could ever imagine. The ball has been tested to ensure that it is top of its class, and guess what, it is! FIFA has given this ball the highest level of performance after running all these tests to check its performance and durability. The high-quality rubber bladder and PUMA Air Lock valve will make your life so much easier. Instead of constantly having to refill the ball with air, this ball will be ready to go when you are. So what do you say? It is just waiting to be used! Grab yours today!