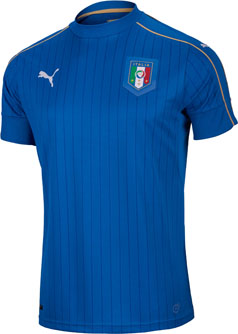 Puma Italy Home Jersey
2016 Puma Youth Italy Home Jersey
The 10th anniversary of the Italian national team's 2006 World Cup triumph is here. This means it's time to celebrate! What better way than with a fresh new

Puma Italy Home Jersey

? This youth version allows the kiddos to get in on the Italian soccer pride. Even if they don't remember that 2006 squad, there is still plenty of reason to celebrate that team.




Guys, Buffon and Pirlo won't be around forever, so it's time to start familiarizing yourself with the next generation of young Italians. 23-year-old studs Marco Verratti and Stephen El Shaarawy are on the up-and-up and should be household names in no time. You can snag the shirt they will be sporting for the 2016 Euros with this gorgeous blue home jersey.