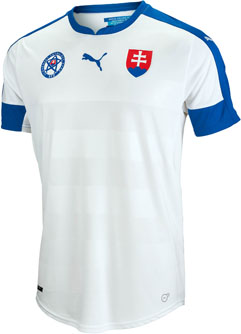 Puma Slovakia Home Jersey
2016 Puma Slovakia Home Jersey
Slovakia is making history this summer. For the first time they have qualified for the Euros! This team is no joke, they had a very successful 2015 while qualifying for their first Euro. Now that they have qualified the journey doesn't stop here. There is still work to be done and if this team can continue the wild ride they have been on, it will be an exciting summer. Catch them in the

Puma Slovakia Home Jersey

!




Puma definitely knows how to design an awesome soccer jersey. This all white jersey will leave you speechless. Not only does it look awesome but it is unbelievably comfortable. Can't you just see yourself in this awesome comfortable jersey watching Slovakia make a splash in their first ever Euro! Get yours today and make that reality!