adidas Kids Colombia Home Jersey 2016-17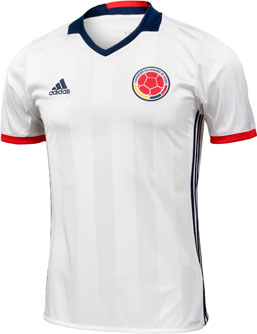 Kids Colombia Home Jersey

James Rodriguez is a great role model for all young aspiring soccer players. James had his breakout in the 2014 World Cup where he won the golden boot and now he has ascended into stardom across the soccer universe. Now at age 24 he is focused on getting even further in the next World Cup. The

adidas Kids Colombia Home Jersey

is a great way to introduce your child to this young superstar. Colombia is sure to make a splash in the upcoming years, will you be there along the way?




This is a great team to support. There young roster will be around for a while and they play a beautiful style of soccer. Their jerseys are just as beautiful as their style of play! The white, navy, and red jerseys really stand out, plus they just look sharp! Your kid will feel like a true professional the moment they put this jersey on! Make your child's day and purchase this jersey today!




If you were interested in this jersey, you may also want to check out our selection of

Colombia soccer gear

at SoccerPro.com.