New Balance Stoke City 2015/16 Away Jersey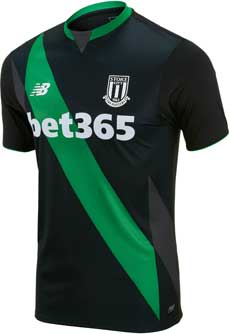 You don't have to be a fan of Stoke City to appreciate the beauty and quality of the 2015/16 New Balance Stoke City Away Jersey! The outstanding green and black colored jersey has left everyone at the SoccerPro batcave signing up for every extra available pair. There is no question that Stoke has some of the best jerseys in the soccer world this year. When you add in the popularity and cult status of this club to the mix then it's a no-brainer, this is a shirt that belongs in your collection by all and every means possible!

Like Stoke City Jerseys from the past, this one shows the full power of the Potters nation. It has colors that pop out no matter where you go. The New Balance technology in soccer jerseys may be the best you'll find anywhere and it certainly shows in this shirt. From the NB Dry technology to a whole host of other pluses which we've highlighted in the 'tech specs' below, you cannot miss with this shirt. Stoke are the classic English team and as a classic supporter, this shirt is a must. Get yours now.